READ HER MOST RECENT ARTICLE IN THE CONVERSATION TO LEARN WHAT MARDIROSSIAN IS UP TO IN 2023!
---
February 2021
What are the ecological implications of textile design? This question, which guides Vanessa Mardirossian's research-creation process, allows us to reflect on a critical approach to materiality through the design of wearable biomaterials. Our second DEMO focuses on the exhibition "Culture of Color: An Ecoliteracy of Textile Design" which presents Mardirossian's tinctorial exploration. For her, documenting the process was central. This written, visual and tactile memory work allows her to refine her thinking and her production through action. In the laboratory, experimental trial and error is part of her methodology.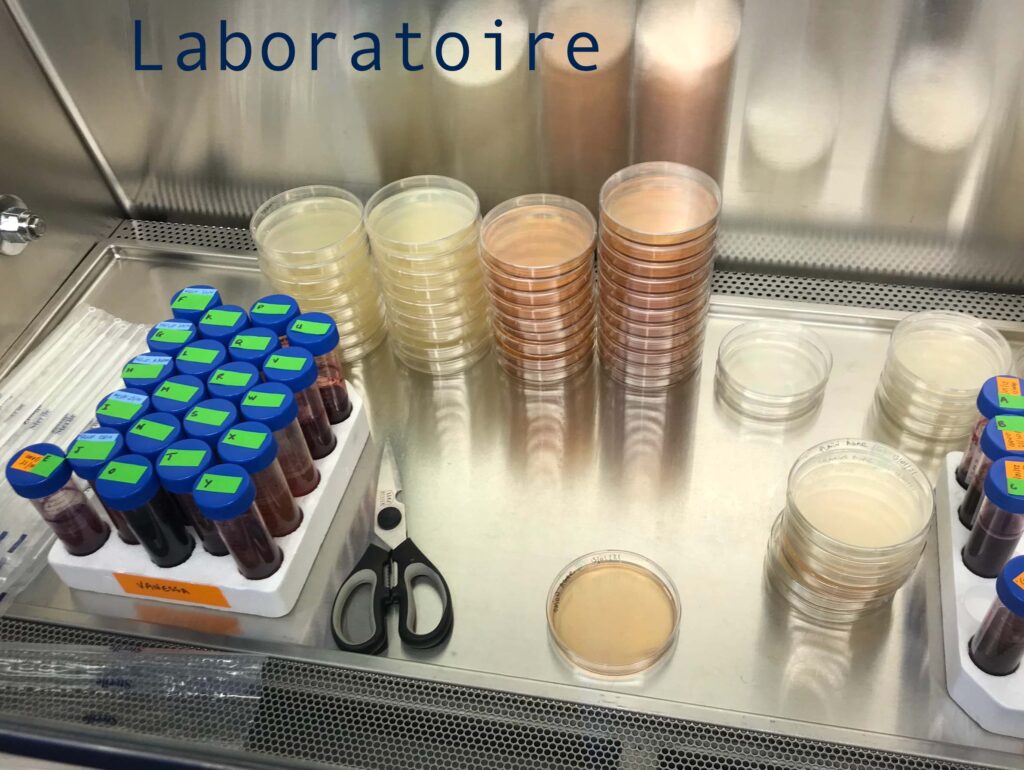 Interested in the molecular aspect of color, she draws from Janine Benyus' work on biomimicry to rethink our production methods based on the operational modes of living organisms, capable, among other things, of producing colors at room temperature and without harmful products. Mixing traditional and innovative processes, Mardirossian bridges the gap between biomimicry and biofabrication. Living organisms become a technology in themselves allowing the production of dyes and prints.
The intensification of the manufacturing process (especially in the garment industry) and the depletion of resources contribute to the degradation of ecosystems and harm the quality of air and water. Those issues fuel her interest in the revalorization of food waste (Mc Donough, Braungart, 2002), which she uses as raw materials to dye textiles. This critical approach to materiality contributes to developing a collaborative methodology mindful of the living world.
In the first phase of research (from 2018 to 2019) Mardirossian developed colors from food waste on one hand and bacteria on the other. It is worth noting that onion and avocado skins contain a natural tannin that provides the dyes with high light and wash resistance.
Various dyes made from food waste: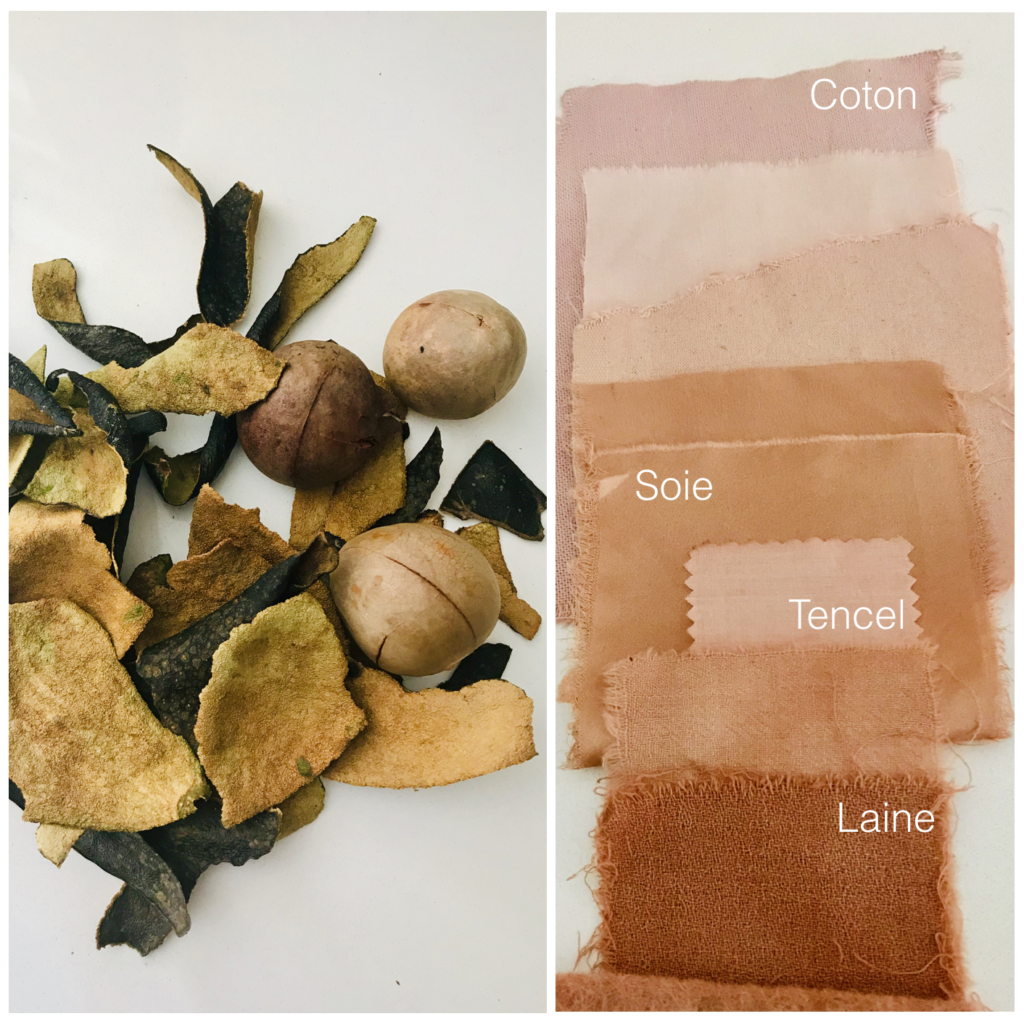 And from the bacteria:

To work with living organisms in the laboratory, safety measures must be followed. This requires a lot of attention and care, but also patience, as the growth of these organisms is a matter of time!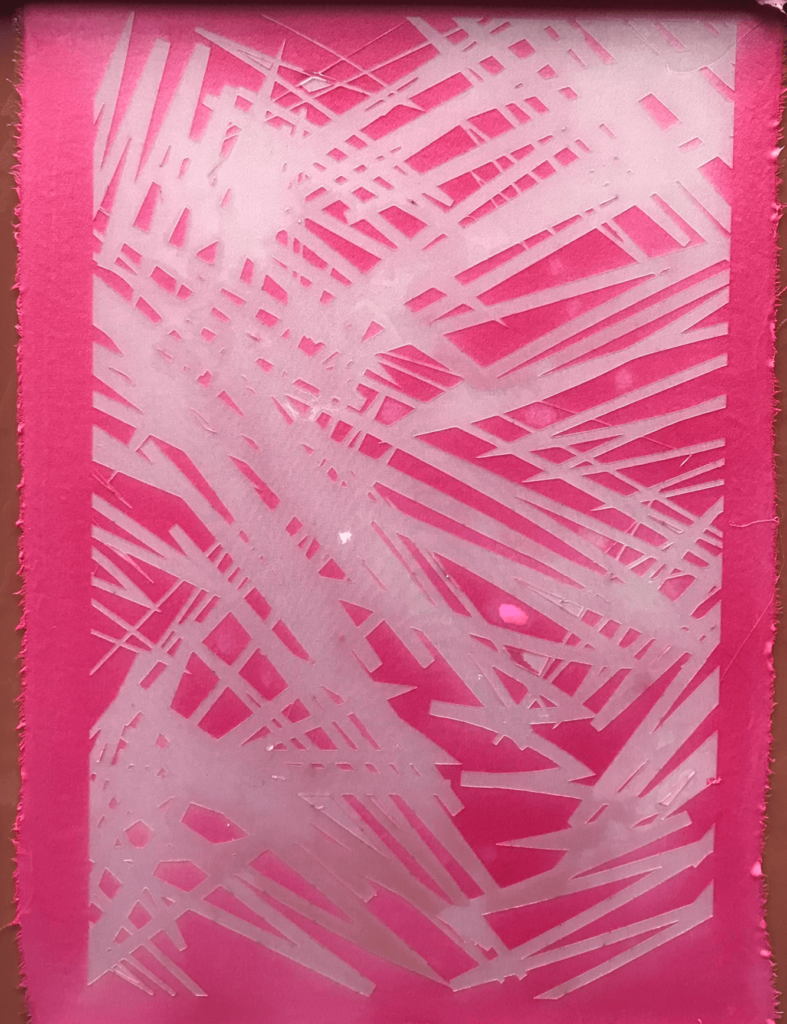 Mardirossian is dedicated to finding healthy alternatives to the toxicity of the dyes we wear, so she put her research to the test in January 2020. Under the supervision of chemist Yves Gélinas, she compared the chemical composition of industrially printed textiles with that of her natural dyes. The results suggest that the latter do not contain toxic compounds, as found in synthetic dyes derived from petroleum.

She then decided to cross-pollinate her first two processes starting in February 2020. The bacteria now feed on food waste, various fruit and vegetable skins, which stimulate the production of pigments and enrich the color palette. These bacteria are grown on flavored agar, a gel obtained from algae, or directly on textiles.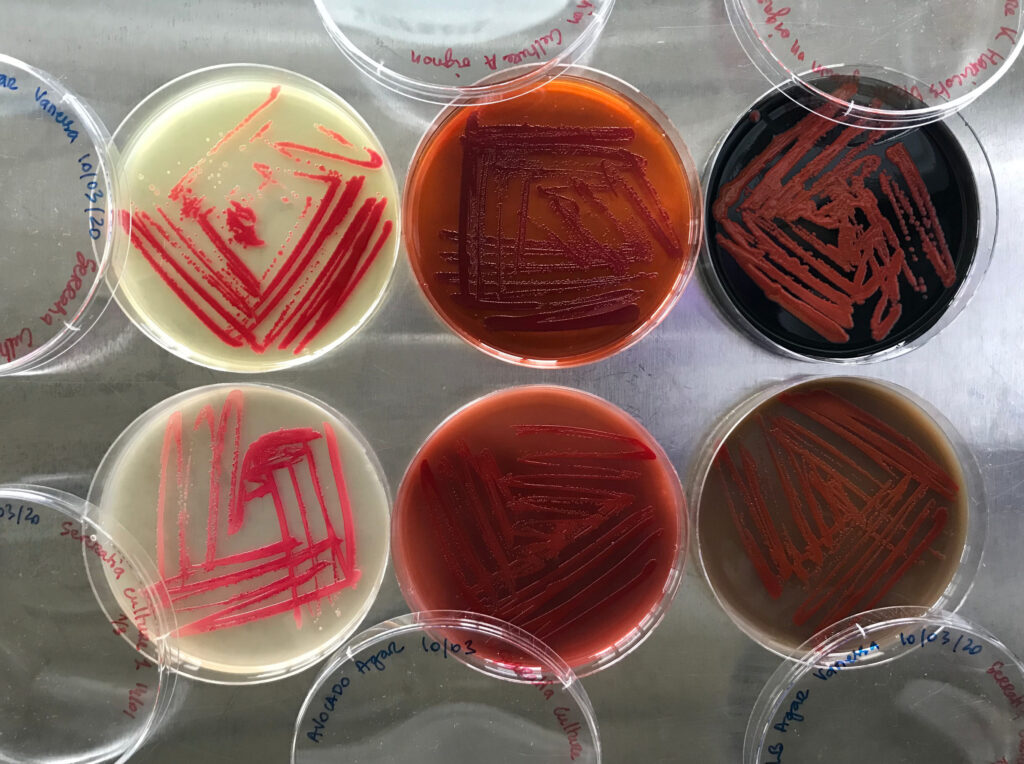 Mindful of her collaboration with the bacteria Serratia Marcescens, which thrives in confined spaces, Mardirossian creates stencils that restrict its growth space, thus promoting cell multiplication and increasing population density. In this way the artist is able to produce a highly pigmented pattern before transferring it onto fabric.
Here is an example of the process, from the growth of Serratia Marcescens bacteria on black bean agar, to the printing on avocado dyed cotton, to the fabric before and after a steam treatment that enhances the color palette.
Serratia Marcescens on black bean agar. Credits : Théo Chauvirey
Serratia Marcescens on black bean agar printed on avocado-dyed cotton. Unveiling by Gabriel Scott and Vanessa Mardirossian. Credits : Jules Beauchamp Desbiens
Serratia Marcescens on black bean agar printed on avocado-dyed cotton. Unveiling by Vanessa Mardirossian. Credits: Théo Chauvirey
Printing by Vanessa Mardirossian, Jules Beauchamp Desbiens and Théo Chauviray. Credits : Jules Beauchamp Desbiens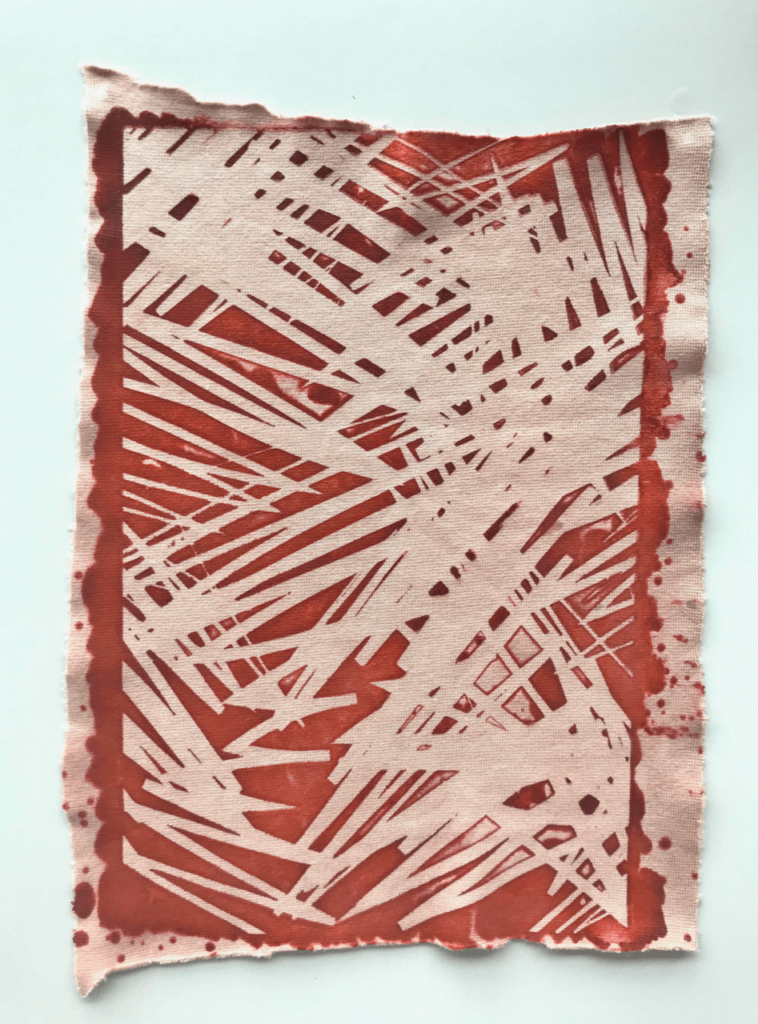 Mardirossian also aspires to bring Montreal's fashion ecosystem to the forefront, in order to produce a garment, from fiber to closet, within a 250 km radius (Burgess, 2019). Through her collaboration with local producers and designers, she brings together diverse skills around common concerns about the ethics of clothing production.For this exhibition, she also collaborates with designers Lila Rousselet of Montloup and Anne-Marie Laflamme and Catherine Métivier of atelier b. Montloup is a Montreal-based company that knits high quality Oeko-Tex certified organic cotton jerseys, which are transformed by Atelier b's talented hands, before being printed by micro-organisms.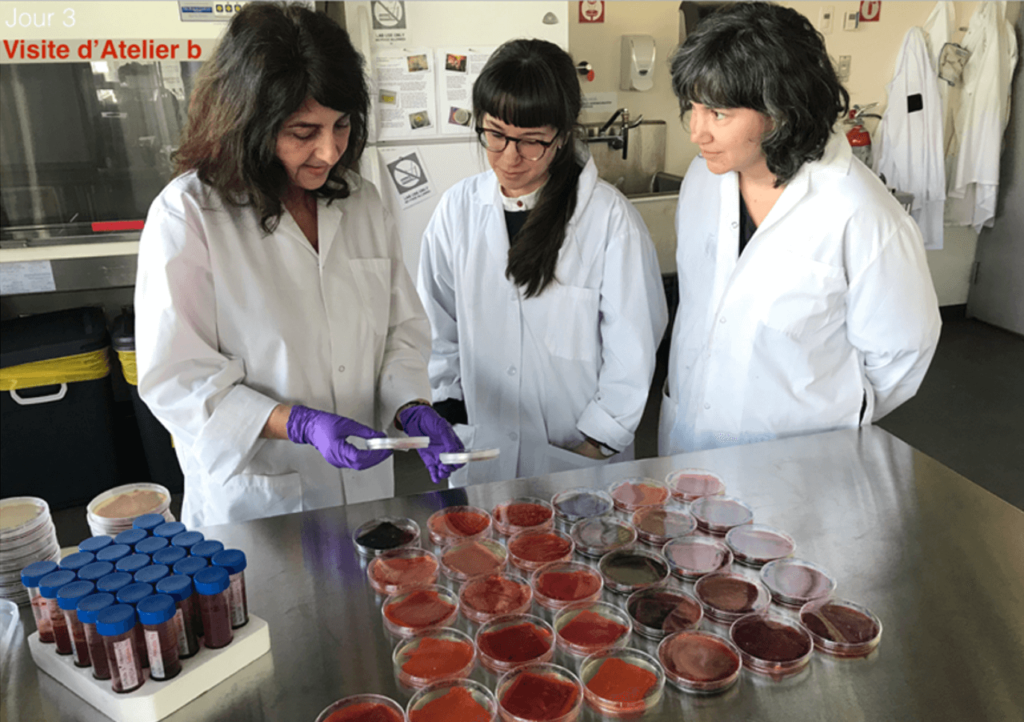 ---
From February 26 to May 7, visit Vanessa Mardirossian's exhibition at École supérieure de mode of UQAM(ESM), 280 rue Sainte-Catherine est, in Montréal.
This exhibition is supported by Hexagram, the Social Sciences and Humanities Research Council of Canada (SSHRC) and the Textile & Materiality Cluster at Concordia.
---
BIOGRAPHY
Vanessa Mardirossian has been a textile designer for fashion for 20 years. First in Paris for Christian Lacroix Couture and the Nelly Rodi agency, then in Montreal for Groupe Dynamite. Concerned about the pollution aspect of the textile industry and its effects on health, she undertook, 4 years ago, a PhD at Concordia University under the supervision of Alice Jarry, Ph.D. and artist [Hexagram co-investigator, Concordia University]. She is working on the development of an ecoliteracy of design, which invites us to think about the consequences of creation on ecosystems and on humans. Her multidisciplinary research-creation project engages in an iterative dialogue between design, chemistry and environmental health, allowing her to reflect on a critical approach to textile materiality and to address complex societal issues through the prism of graphic design and color. She has also been teaching at the École Supérieure de Mode de l'UQAM for the past 5 years where sustainable development is at the heart of her pedagogy.
You can follow her creative process by taking a look at her instagram profile: @vanessamardirossian
You can also read two recent articles on Mardirossian's work and current exhibition :
Valérie Martin's article, published in Actualités UQAM;
Isabelle Morin's article, published in La Presse.
Credits : All images are from Vanessa Mardirossian, unless otherwise indicated.
If you have any questions or comments, please feel free to contact her at: vanessamardirossian@gmail.com
Cette publication est également disponible en : Français (French)