Part 2: June 2022
In this second part, Olivia Mc Gilchrist's [student member, Concordia University] aim is to share the creative and technical process behind the most recent research-creation components of her thesis with the scientific community.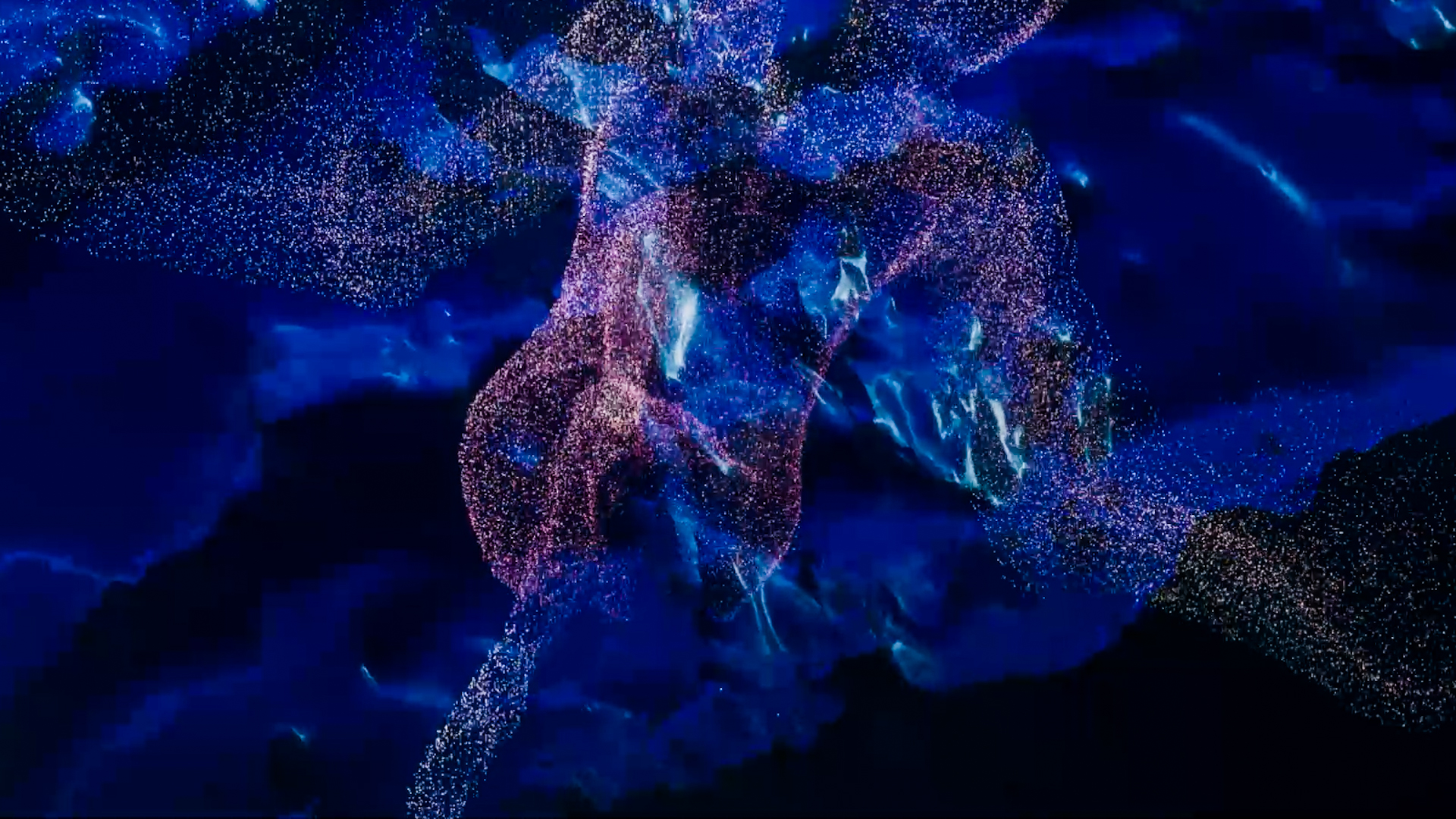 In June 2022, Olivia was able to complete a full body volumetric video capture: a key component of her thesis VR experience, through the support of  Zú, Montreal's Creative Hub with Véronique Levert and Ricardo Morejon, in collaboration with Concordia University.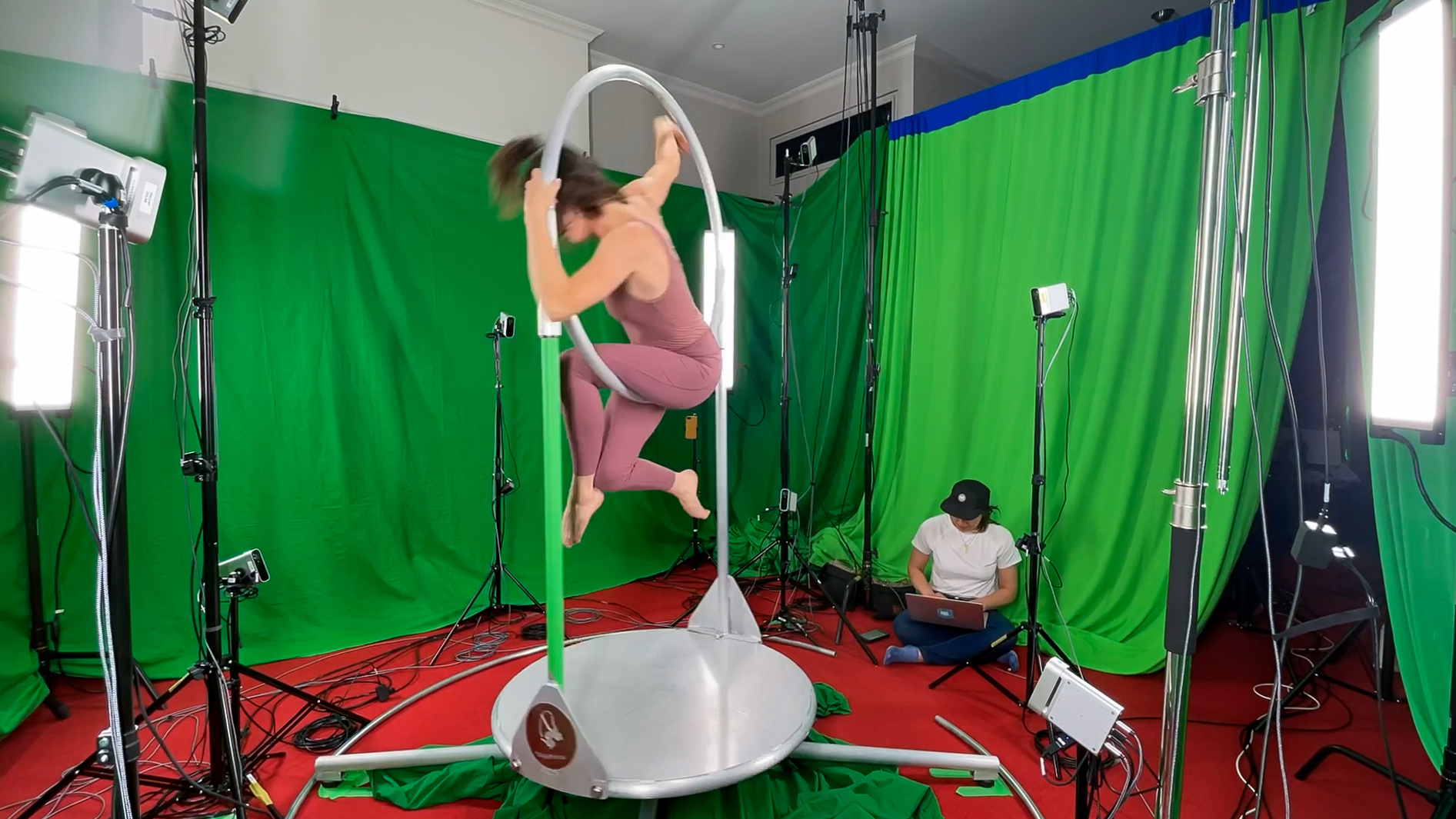 Full body volumetric video (filming the body in movement with depth sensors) is relatively new and it was a great learning opportunity to collaborate with aerial performer and fellow research-creation PhD student Keely Whitelaw to create an unconventional capture on a floor based aerial platform that was constantly in motion. Working with Keely was a welcome new development, and her input was both creative and conceptual, allowing Olivia to expand the scope of the VR component within her thesis project.
Her doctoral research-creation project Virtual ISLANDs explores the relationship between the experience of virtual immersion in VR and the physicality of being submerged, offering viewers audio-visual interpretations of the ebb and flow of water around them. The project invites a reading of VR practices as aesthetic / artistic creation foregrounding submersion alongside immersion for VR creation to highlight the relation between water and identity, inspired by her dual Caribbean and European heritage.
The theoretical questions which prompted previous versions of Virtual ISLANDS, or which she proposes as conceptual counterpoints, are explored through three main research questions (see below*) in her upcoming peer reviewed academic book chapter Virtual ISLANDS: proposing VR Tidalectics, edited by Nicole De Brabandere [collaborator member, McGill](Vernon Press, 2022).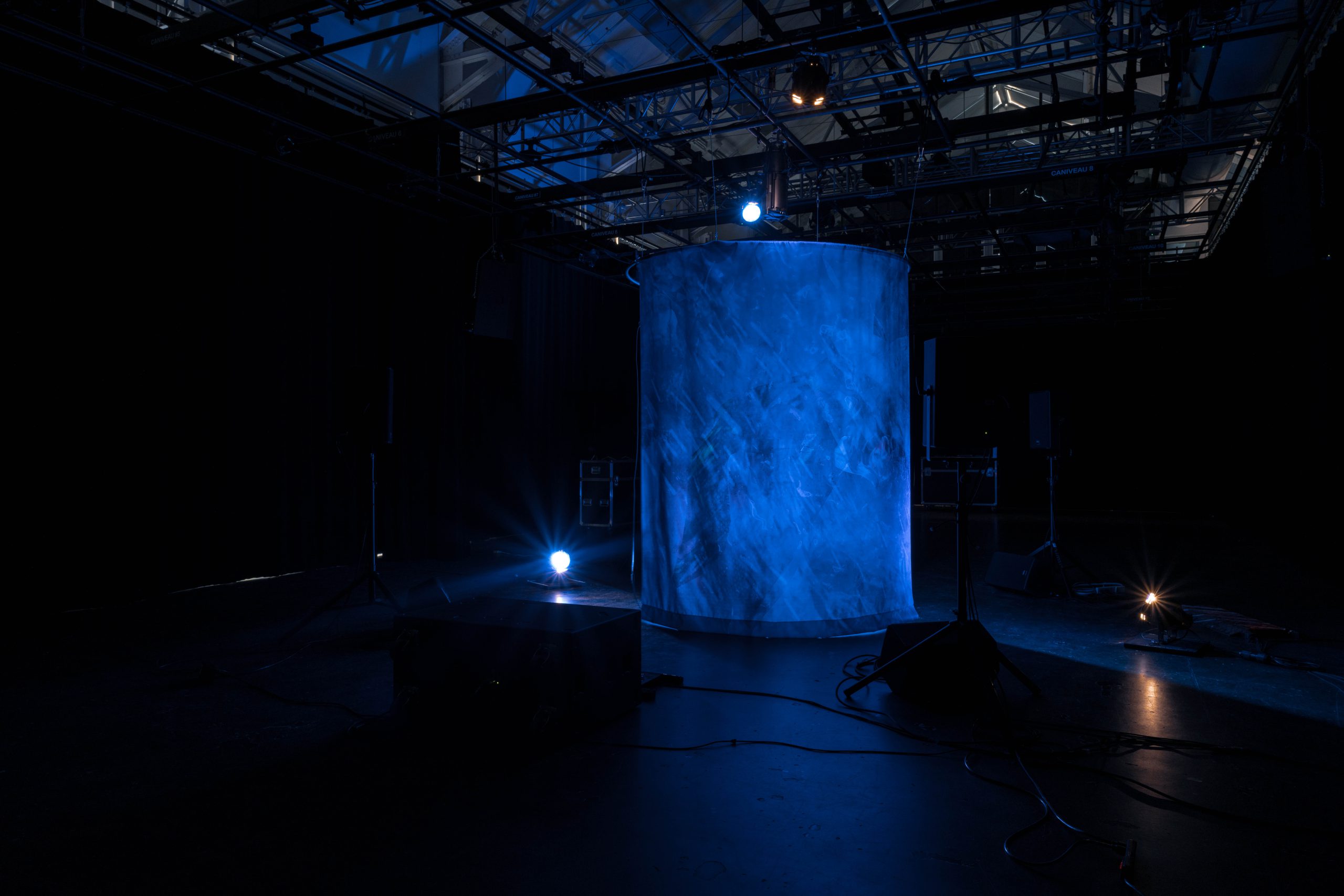 During Olivia's HEXAGRAM residency at AGORA Hydro Quebec in July 2022, she created a multimedia installation in collaboration with electroacoustic composer Kasey Pocius [student member, McGill]. It featured the new version of the VR experience, a sound composition by Jack Hyde, and printed banners created in collaboration with Julien Villeneuve. Kasey adapted their 2020 sound composition, originally created for a previous version of the Virtual Reality experience, into a 4.1.4 sound installation, immersing VR viewers sonically through the careful placement of speakers around the VR play area. The ongoing collaboration between Kasey and Olivia allowed them to create an original audio-visual experience, where viewers are prompted to question their own positionality within the work.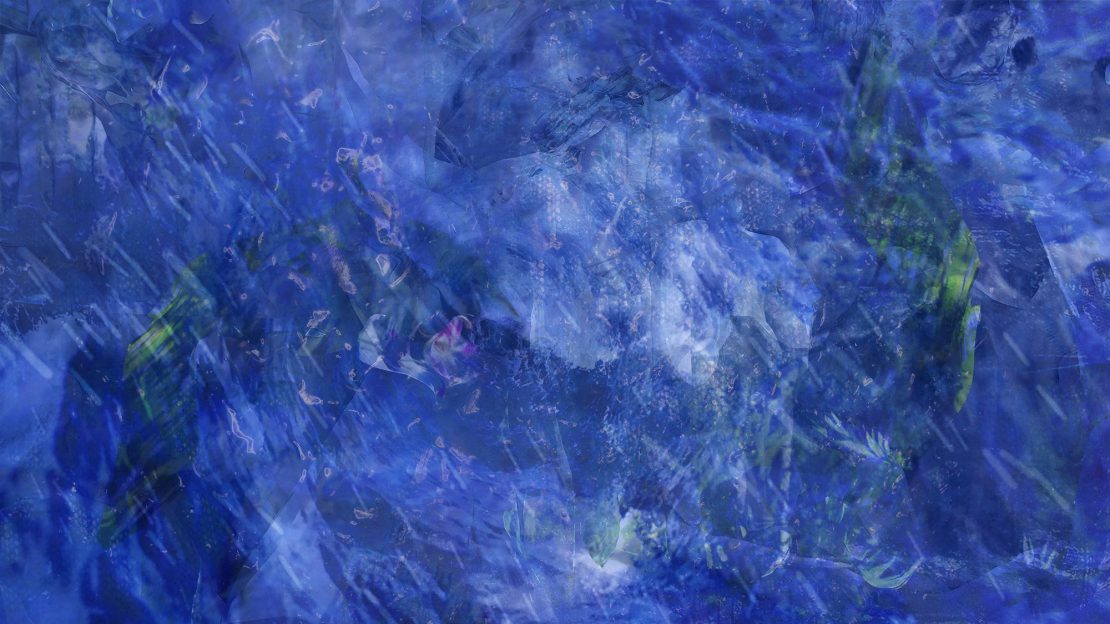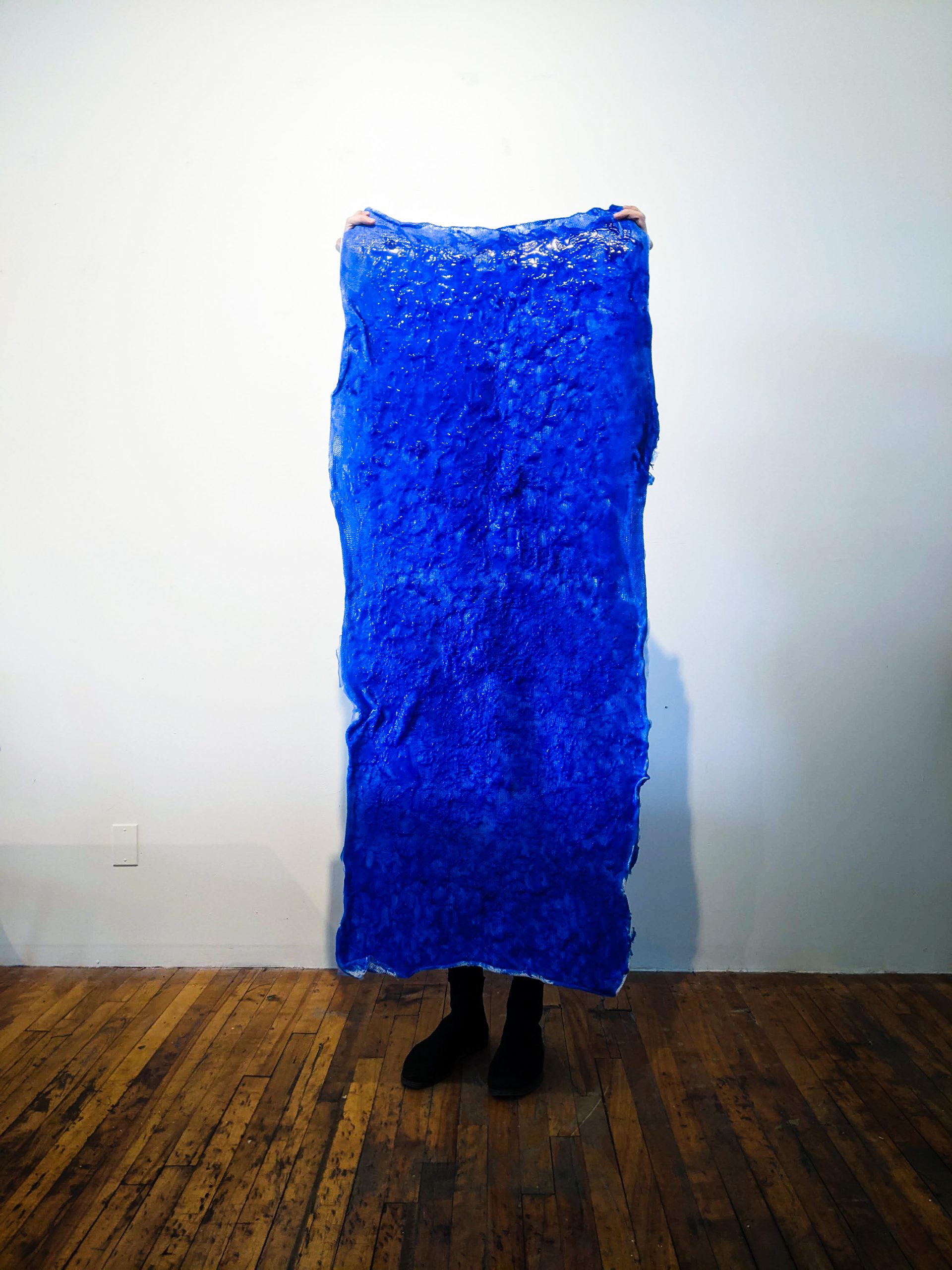 In dialogue with fashion and textiles designer Julien Villeneuve, she also created a physical structure designed to demarcate the space for the VR experience within a physical sound installation. Inspired by Julien's experimental textile work, Olivia incorporated close up photographs of his work in a multi-layered single composition which was printed and then cut into two backlight textile banners hanging from a custom made aluminum circle.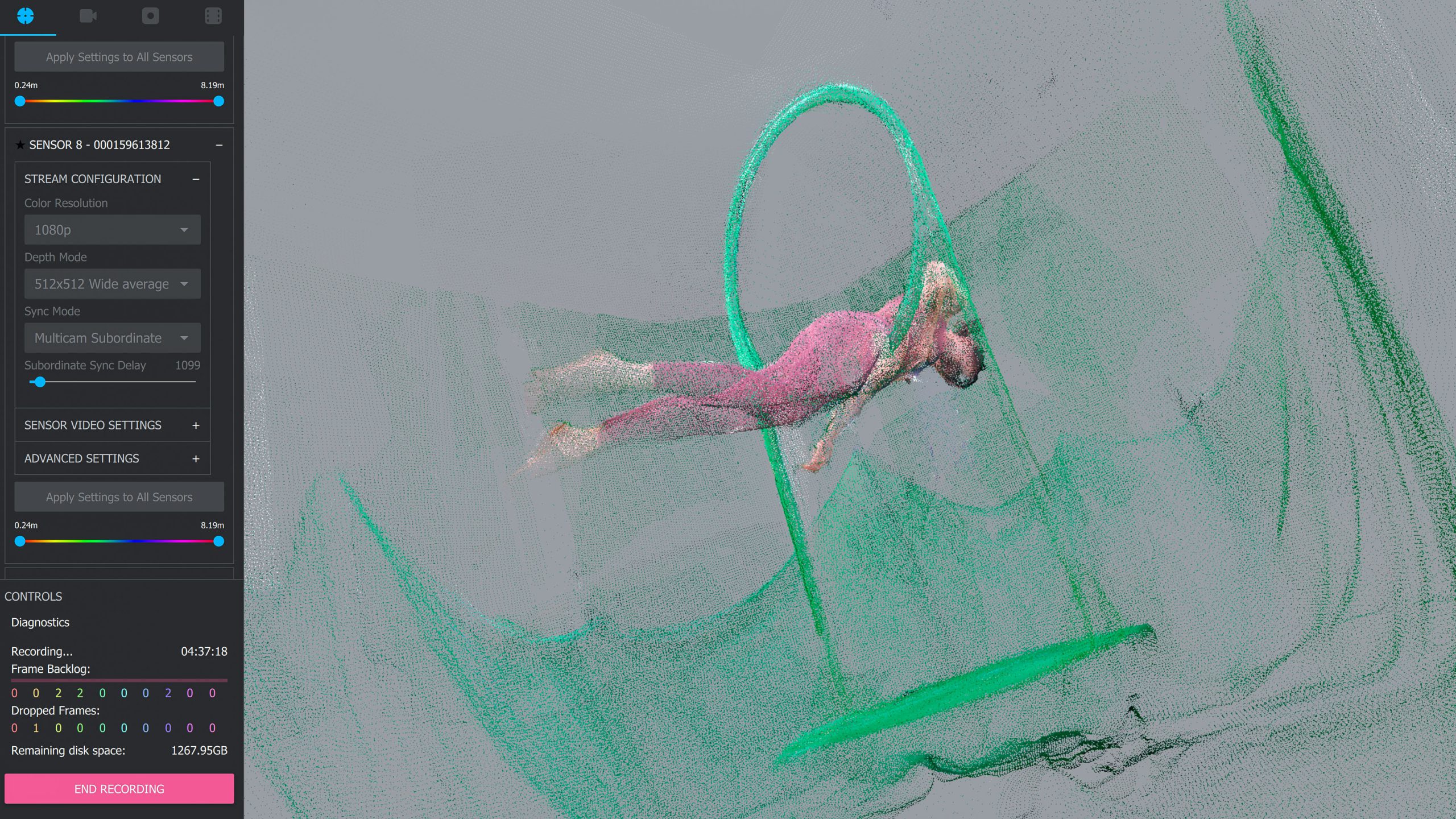 The VR component of this artwork includes a volumetric video capture of aerial performer Keely Whitelaw who portrays a gestural response to a virtual experience of being underwater. This was created on a floor based aerial structure allowing them to record a choreography using Depthkit's latest 10 sensor depth camera system through the support of Zú, Montreal's Creative Hub.
Working with the video game engine Unity 3d for VR creation since 2017 has allowed her to experiment with different techniques to create an ambiguous scene through the combination of 360 video, 3d models and shaders (computer programs within the game engine), through which she distorts sequences of still images, themselves extracted from video sequences. In the current version of her project, she is working with volumetric capture and further 3d visual effects, which allows her to transform into dots or small particles. (Unity 3d HDRP in combination with Depthkit's Unity plugins for the VFX graph).
In VR, Keely's volumetric performance as an array of moving particles is an invitation to think through aspects of her project's larger *research questions, albeit within the context of creating this work in Montreal with collaborators from various spaces outside the Caribbean.
1. Can an encounter with a virtual body which comes in and out of sight in VR address how the self and the other are represented in virtual space?
2. Can VR as an experiential, artistic project versus narrative-led VR, suggest a different approach to the techno-solutionist assumptions at work, and what happens when VR is evoked as an empathy machine to address issues of identity, embodiment, gender, and race?
3. Can I evoke Caribbean futures through tidalectics, where water is a site of history, memory, and a virtual body which comes in and out of sight in a virtual watery VR space?
---
Artists
Olivia Mc Gilchrist, Individualized PhD candidate at Concordia University, in collaboration with Kasey Pocius, who is currently pursuing an MFA in Music Technology at McGill Schulich School of Music.
Other Collaborators
Keely Whitelaw, Humanities PhD student, Concordia University
Julien Villeneuve, Fashion Design graduate, ESM UQAM
Zú, Montreal's Creative Hub with Véronique Levert and Ricardo Morejon, in collaboration with Concordia University.
---
PART 1 : February 2021
As a first DEMO, Hexagram presents Olivia Mc Gilchrist's research-creation residency at Le Petit Théâtre du Vieux-Noranda. Last February, she participated in the co-creation of a performative and interactive experience that links the world of video games and the performing arts. During that first phase, Olivia contributed to the development of the critical and conceptual framework of this laboratory, taking place in the framework of research-creation activities led by Jean-Ambroise Vesac [Hexagram co-investigator, Université du Québec en Abitibi-Témiscamingue] and digital artist. The multidisciplinary team collaborating on this project consists of researchers, professional artists, students, technicians, as well as the French studio THEORIZ.
Photo Crédits: Élisabeth Carrier
OLIVIA'S RECHERCHE-CREATION
Prompted by the question "what might a Caribbean future look like?" (Pearce, 2015), Olivia's research-creation project investigates VR as a decolonial tool (Tuck and Yang, 2012) through the notion of Caribbean futures. Virtual ISLANDS combines a written thesis and a Virtual Reality and video installation tying together Caribbean futures and the possibility of submersion as a postcolonial stance within VR-making practice. Grounded in the violent histories of the Transatlantic slave trade her thesis juxtaposes Black Atlantic (Gilroy, 1993) art histories with a tidalectic (Brathwaite, 1999) formulation of water as a historical space in VR creation. To counter the Western influence of the Hegelian dialectic of thesis / antithesis / synthesis, Brathwaite proposes a tidal poetics, or tidalectics, where the constant ebb and flow of the tides around Caribbean islands are constitutive to the philosophical framework around Caribbean identities. Drawing from the submerged histories of the Middle Passage in the aftermath of Transatlantic slavery, where much of the archive lies below the sea, this project invites a reading of VR practices as aesthetic/artistic creation foregrounding submersion over immersion in VR experiences.
This experiential artwork combines a series of volumetric self-portraits with a sound composition by electroacoustic composer Kasey Pocius. Virtual ISLANDs disrupt conventional uses of volumetric capture technology to portray a gestural response to a virtual experience of being in water.

A multimedia artist engaged in questions about identity, Olivia Mc Gilchrist have exhibited in Canada, Jamaica, the USA, Brazil, Germany, Norway, Austria, France, Switzerland, and the UK. I completed a Photography MA (London College of Communication, 2010). I'm pursuing the Individualized PhD at Concordia University, with Professors MJ Thompson, Lynn Hughes and Alice Ming Wai Jim. My research-creation project is provisionally entitled: "Virtual ISLANDs, postcolonial hybrid identities in Virtual Reality." Building on my own experience as a white Euro-Jamaican, and past research in the portrayal of my hybrid identity within contemporary Jamaican culture, I'm exploring how this can be represented in VR. Building on research in the central role of water in Caribbean cultures, my project is informed by the violent histories of transatlantic slavery and Atlantic modernity, through the framework of Paul Gilroy's notion of the "Black Atlantic." This project invites a reading of VR practices towards aesthetic/artistic aims through the exploration of submersion as an alternative notion to describe VR's immersive experience.
Cette publication est également disponible en : Français (French)