Antennae ISSUE 59 — AUTUMN 2022

The latest issue of the journal Antennae, titled 'Microbial Ecologies', features the SSHRC-funded Fossilation project, co-directed by Milieux's Bio Lab Director (and Concordia's Research Chair in Critical Practices in Materials and Materiality) Alice Jarry.
The featured paper, Form taking/force shaping, written by Alice Jarry [Co-investigator member, Concordia], Marie-Pier Boucher [Collaborator member, UoT], Brice Ammar-Khodja [Student member, Concordia], lee wilkins, Vanessa Mardirossian [Student member, Concordia], and Samuel Bianchini [Collaborator member, EnsadLab], provides a critical reflection on the collective installation Fossilation and the research and creation process that informed the project. The whole issue offers a "timely range of multidisciplinary practices, approaches, methodologies, and conceptions to help us see and value the microbial worlds that until recently have remained invisible."
Fossilation is large bioplastic membrane and an apparatus harvesting residual energy from its environment to interact with light. The work was presented at the Centre Pompidou in Paris within the context of the exhibition Matières d'images in February 2021.
Read the full article and download the complete Antennae's current issue open access here.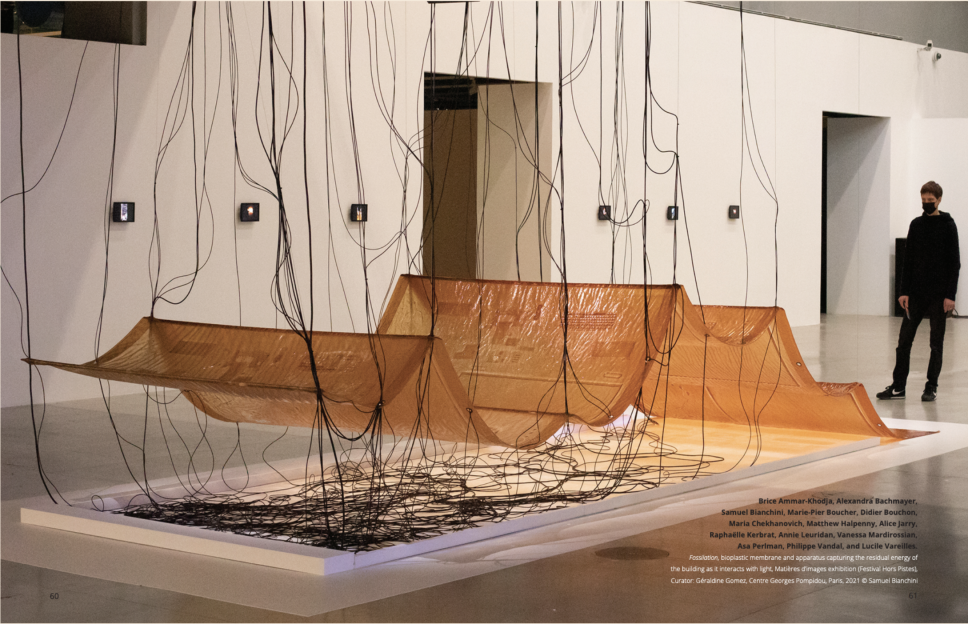 Cette publication est également disponible en : Français (French)