February 2022
La généalogie vise à discerner au sein de notre être historique les lignes de contingences où s'esquissent un « changement possible et souhaitable » les pointes de rupture de notre conscience historique.

Guillaume Sibertin-Blanc, Les impensables de l'histoire.
TRAme TRAjet TRAce : connecting a sonic trail began with a genealogical inquiry to trace the journey of migration of Sylvie Laplante's [student member, UQAM] ancestors.
This sound installation attempts to answer the following questions: How can a genealogical framework serve as a continuity? Can it generate new narratives in directions and forms that escape its arborescent and authoritarian structure?
In this research-creation, the genealogy served as threads (TRAme) where sound allowed for filiations that escape genealogy, to produce an assemblage of sound compositions that is constantly renewed, due to different durations and temporalities in its performances and its spatial distribution in different zones.
Écouteurs recommandés pour une meilleure expérience d'écoute
Following a research on her maternal ancestors, Laplante walked a route (TRAjet) that followed their migration line from Ville La Prairie, south of Montreal, to the Canada-US border. During her journey, she recorded sounds with various types of microphones: binaural microphones that capture sounds according to the position of human ears, hydrophone, hypercardioid or directional shotgun microphones to capture more precisely distant sounds, and contact microphones that she created to capture the inner sound of objects and materials. Numerous recordings were made: urban areas, suburbs and agricultural fields; interior spaces, meetings and interviews, and the internal sounds of various objects and materials: metal structures, wood, glass, plants, water… With contact microphones, the walking path became a laboratory for sound capture, a haptic rather than optical space, and a set of digital files.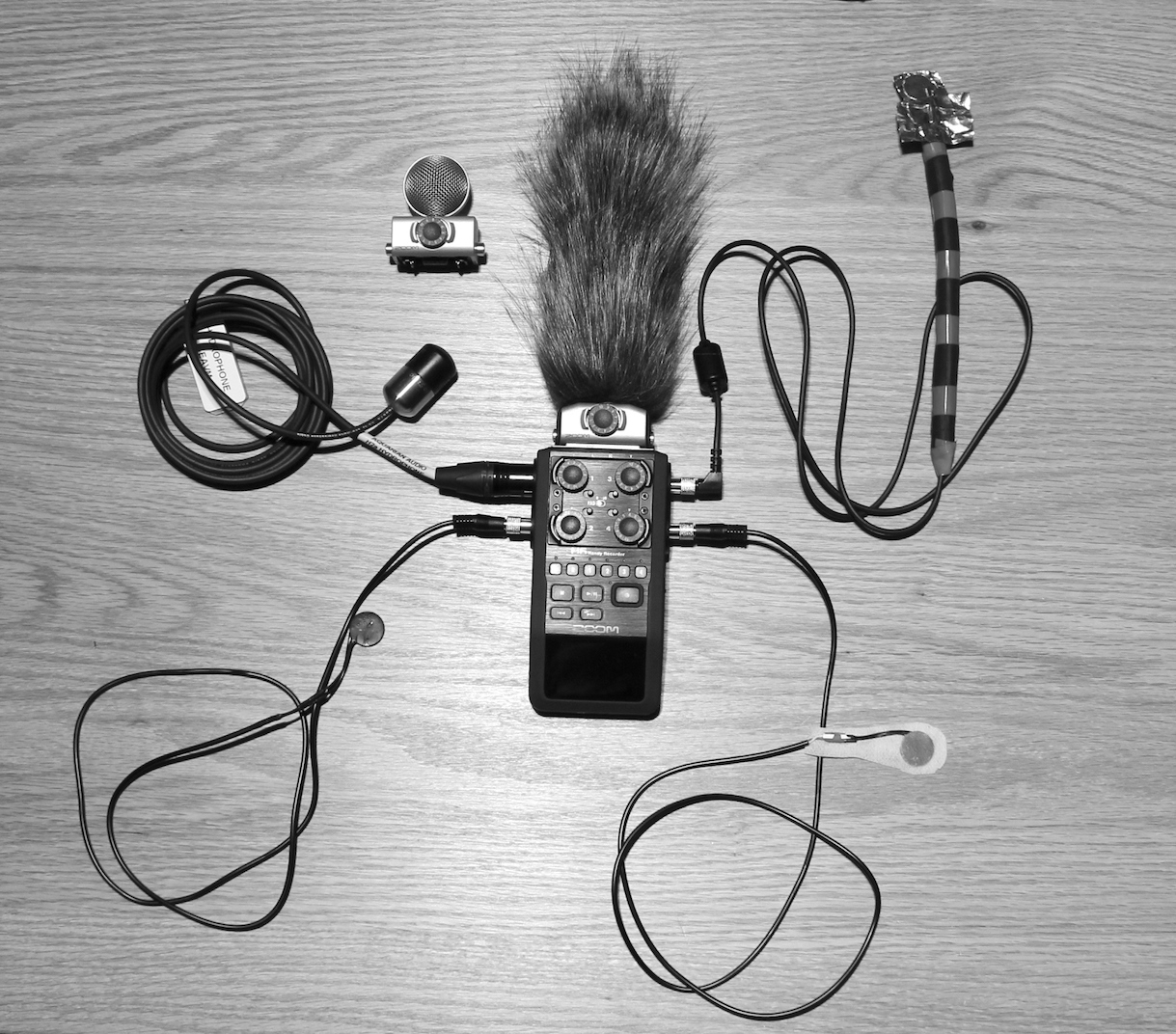 TRAce is the part where the journey was recomposed within the sound editing interface. The audio recordings of the journey became visual in the form of colored strips to be cut, fragmented, moved and reattached. In this process, the chronological order of the recordings was deconstructed to be recomposed into new arrangements. Eight audio montages of different lengths were made in double mono and 7.1 multichannel, called to play simultaneously and in a loop, in anticipation of a constant shift in their interplay. In all, 21 mono soundtracks were to be played in the space.

The dissemination of the project took place in November 2021 at Hexagram-UQAM's Salle d'expérimentation. The sound montages were played through 21 visible and concealed speakers and individually activated. The configuration of the room enabled the installation of five sound zones that interpenetrated each other. At the entrance, recordings made in the cemeteries of Hemmingford and Saint-Chrysostome had resulted in two double mono sound compositions from materials exposed to the elements of earth and wind. At the end of a corridor, one reached a zone of sounds captured at the Canadian-American border: four loudspeakers were facing a wall, echoing the threshold encountered by the artist in his journey on foot and the impossibility of passage. Nearby, on a terminal, a box contained blurred photographs. By sticking the ear to the box, two integrated vibrating loudspeakers made it possible to hear the sound of voices whose words diverged according to whether they were based on archives, memory or stories. In a central space, seven speakers oriented in a circle played a 7.1 channel composition of sounds captured in Ville La Prairie on the south shore of Montreal. This is where the ancestor Clément Lériger-dit-Laplante arrived from France in 1785 and from where his descendants migrated south to the U.S. border. Hidden behind a curtain, four other speakers broadcasted two compositions in double mono that were combined with all the other sound zones by sounds gleaned along the way: road, traffic, playgrounds, woods, sounds of footsteps, sounds of structures, humans, birds, machinery…
For the artist, this sound work which results from many transformations and crossings, reactivates a particular experience of the walk, moments and memories, but this initial genealogical path is no longer important; the sound alone calls for new perceptions and experiences. Genealogy offers an incomplete, selective, visual narrative; it suppresses many things while selecting some. Sound functions independently and escapes this structure. It uses what the genealogy suppresses, neglects or forgets and activates a potential of continuity in a multitude of new narratives. The space of diffusion, the temporality of the experience and the interpretation intervene in the perception of the public. Immersed in semi-darkness, the space wants to elicit haptics. The border between fiction and reality becomes blurred; experience activates a memory that can be mistaken and awareness selects elements to make other stories. Even though it can challenge it, sound escapes memory. It is always anchored in the real, in the present.
BIOGRAPHIE
Sylvie Laplante has a theatrical background and has worked for several years on the roads of the world as a tour guide. In her interdisciplinary practice, she scans territories by walking urban routes, or by longer distance expeditions on unknown itineraries, often oriented towards border zones. From these displacements, she looks for means and forms that can give rise to experiences and movements of continuity, rather than establishing a fixed archive of them. Her projects amalgamate several mediums, means and devices: drawing, painting, video, audio, photography, sculpture, object amalgamation, maneuver, urban and territorial action, installation. She has carried out projects in Switzerland, Germany, Spain and Quebec where she received support from CALQ. She is a student member of Hexagram-UQAM.
Acknowledgements
Sylvie Laplante would like to thank the people who collaborated in her research-creation, the audiovisual department and the team of media technicians at the ÉAVM, as well as the organizations that supported her: the Fondation de l'Université du Québec, UQAM with the institutional scholarship for excellence in the master's program in visual and media arts, the scholarship from the Fonds des professeurs de l'ÉAVM, and Hexagram-UQAM with the research scholarship and its residency program. She would like to thank her professors and particularly her research director Gisèle Trudel, artist and professor at the School of Visual and Media Arts of UQAM, and Stéphane Claude, composer and sound engineer, responsible for the audio department at OBORO, for guiding her in her work with sound.
To follow her work, we invite you to visit : sylvielaplante.com
Image : Route Candiac – St-Philippe, September 24, 2020.
Cette publication est également disponible en : Français (French)