July 2023
Presented in April 2023 at Hexagram's residency studio, Microosmoses is an installation and video exhibition by Mélodie Claire Jetté [student member, UQAM]. The exhibition is the culmination of her Master's degree in visual and media arts, which she carried out under the supervision of Gisèle Trudel [co-investigator member, UQAM]. This research-creation is the result of a reflection on collaboration as a singular and creative alliance between different life forms. Microosmoses proposes microcosms in custom-blown glass flasks where billions of microorganisms coexist, forming symbiotic communities that constantly influence and contaminate each other.
Since this research focuses on the relationship between the artist and the microorganisms, the term research-[co]creation is more apt to describe the innerworking of this collaborative study. And among the microcollaborators who took part in this research, let's emphasize the contribution of bacteria: Acetobacter species, Gluconobacter, Komagataeibacter, Lactobacillus, Lactococcus, Leuconostoc, as well as yeasts: Brettanomyces/Dekkera Candida Kloeckera/Hanseniaspora, Kluyveromyces, Lachancea, Pichia, to name but a few (Villarreal-Soto et al. 2018, 581-582).
The artistic approach revolves mainly around the fermentation process, an ancestral biotechnology involving the cultivation of microorganisms. The microbial communities involved in this research come from kombucha, a sweet tea fermented by yeasts and bacteria in a symbiotic relationship.
---
Interspecies alliances and collaborations
This characteristic of "symbiotic relationship," intrinsic to the fermentation process, anchors the notion of collaboration and becomes a founding element of this research-[co]creation. Mélodie Claire Jetté undertook this artistic project with a desire to prove that it was possible to experience collaboration with entities other than human ones. To achieve this, she had to question the concept of collaboration, often understood as a sort of work process in which people agree to join forces to achieve a common goal. Here, it's a question of recognizing the existence and perspectives of non-human entities, of being attuned to their (re)actions and modes of doing, and of valuing their intrinsic participation in the research process. This approach enabled the artist and the microorganisms to interact together. Of course, it involved inventing these spaces and opportunities for "creating-with," but it also required the artist to adopt an inclusive, respectful and empathetic attitude towards them, an ongoing commitment.
---
Human alliances and the collaboration of glass
Other alliances and collaborations contributed to the realization of Microosmoses.
Although the presence of the yeasts and bacteria that make up the microcosms is manifested, among other things, by the creation of a biofilm, Mélodie Claire sought to capture these micro-collaborators in action. This led her to build a DIY camera-microscope (x200 lens) in her workshop, using a nano-computer (Raspberry Pi). Stunned that she could make these entities visible to the naked eye, she then contacted Grégoire Bonnamour at UQAM's biological sciences department microscopy unit to capture higher-quality images and videos. For Microosmoses, a sample is taken in situ, and put under the lens to be immediately integrated into the work.
Meanwhile, to create her own habitats for microbial communities, the artist attended two intensive glassblowing sessions at the Espace Verre school in Montreal. In addition to learning about the practice of glassblowing, she met teacher and glass artist Catherine Benoit, to whom she offered to collaborate on the forty or so vessels presented at the Microosmoses exhibition. Catherine Benoit offered her expertise to Mélodie Claire Jetté, who, inspired by microorganisms (as seen under the microscope), designed the shape of the containers to be blown while participating in their creation.
Credit: Ethel Laurendeau
During the experiments that led to the final form of the installation, projection tests were carried out to position the projectors. Broadcasting the video through the suspended glass microcosms created impressive refractions on the wall.
Notes from the artist's notebook
Alone in the dimly lit room surrounded by curtains, I explore different spatial settings for the projection. I move around the installation and quietly observe. Some of the projector positions offer interesting overflows of moving microbes on the walls, ceiling, column, floor or even on my body. Amid the suspended microcosms, I'm immersed in dancing bacteria. I think back to all those that inhabit me, to the invisible, unconscious collaboration that unites us at all times, and to this walking "cosme" that we form. How much influence do we exert on each other?
[A few days later, during the jury for this master's degree, in which biologist and bioartist François-Joseph Lapointe [co-investigator, UdeM] took part, a discussion began about the possibility that, to some extent, my microbiota might be at the origin of this research-[co]creation, having in some way guided me (unknowingly) towards this artistic proposal. This reversal strikes me as highly stimulating for rethinking the place of the human being as not the center of all preoccupations. Quoted with permission].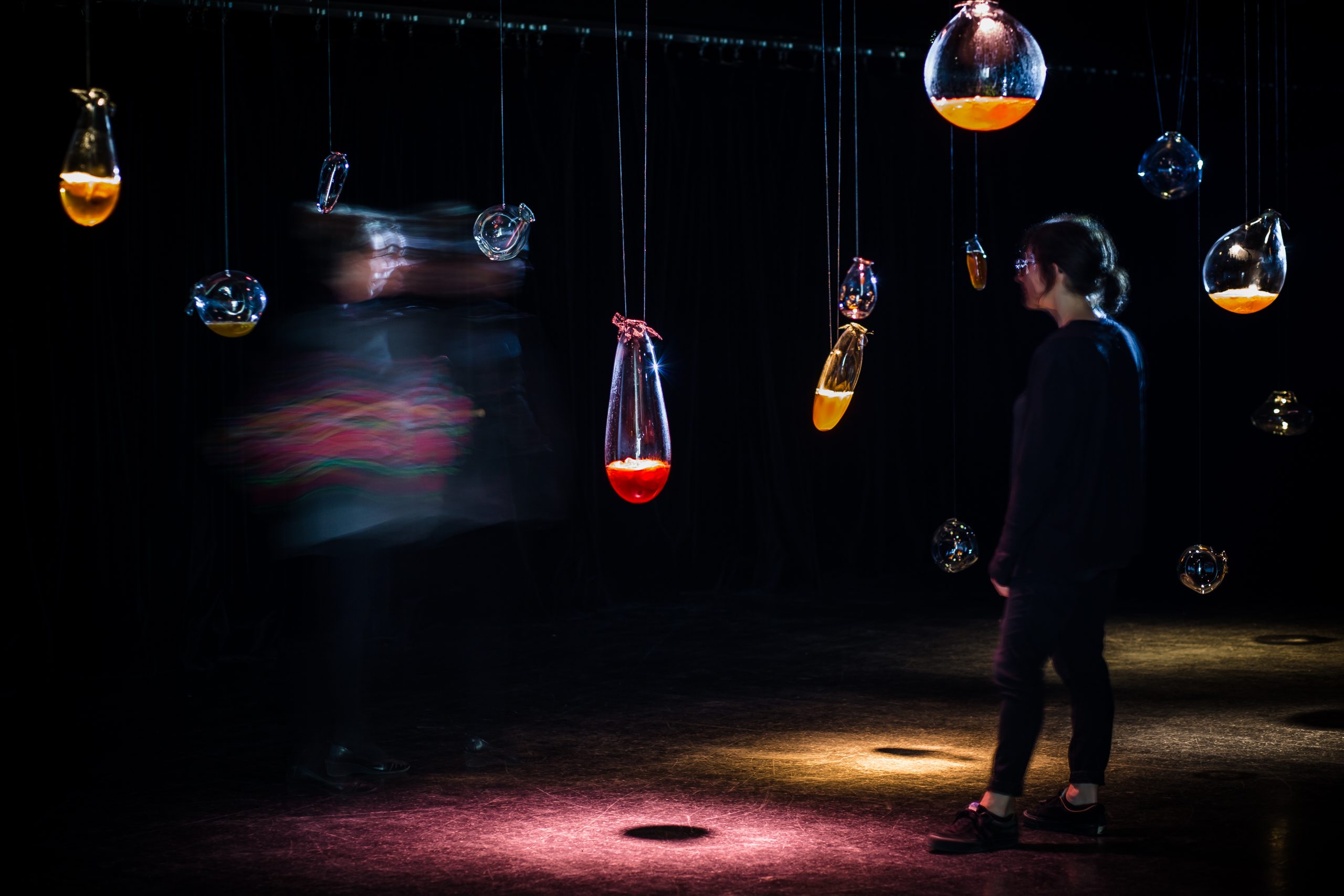 And so, as this research-[co]-creation developed, so did the relationship between living bacteria, humans and non-humans. A dynamic, evolving relationship that the artist intuitively calls "biorelational", in homage to the specific interconnectedness of this creative context.
Revisit the exhibition here…
Mélodie Claire Jetté acknowledges the financial support of Médiane Chaire de recherche du Canada en arts, écotechnologies de pratiques et changements climatiques, as well as the invaluable contribution of Hexagram-UQAM and Hexagram, a research-creation network in arts, cultures and technologies.
She would also like to highlight the exciting collaboration with glass artist Catherine Benoit and her assistant Jennifer Gaumer, as well as with Grégoire Bonnamour of UQAM's microscopy laboratory, and the generosity of Yanik Love and Fous de l'ile Kombucha.
Biography
Mélodie Claire Jetté began her studies with a bachelor's degree in art education, followed by a master's degree in visual and media arts (UQAM). Her practice has developed around relational experiences, exploring collective, interactive, socio-artistic, Happennig and community art projects. She has also participated in a dozen group exhibitions.
These experiences led her to reflect on the way she relates to the Other, and significantly transformed her way of being in the world. She is now seeking to question her relationship with the living, more-than-human Other by broadening the concept of relational art beyond the human social field, to think of relationship in terms of sensory experience. In so doing, she seeks to discover and even invent a practice she calls "biorelational," in order to elaborate new modes of exchange and collaboration with diverse life forms.
Cette publication est également disponible en : Français (French)