Hexagram is proud to present its new exhibition — imprints [empreintes] — as part of the Ars Electronica festival in Linz (Austria) from September 6 to 10, 2023!
Kicking off the new season of the Rencontres interdisciplinaires du Réseau, the exhibition will bring together 15 works created by 18 of its members. With this exhibition, Hexagram continues the collaboration initiated with Ars Electronica in 2018, as part of the Festival's Campus Exhibition program dedicated to academic programs and student creations. At the time, the Network presented works by student members as part of the Taking Care exhibition. Hexagram's collaboration with Ars Electronica has since become a recurring one, despite the challenges that the global pandemic would pose in the following years. It was via the Festival's online platform that the Network contributed to the programming of Ars Electronica in 2021, and broadcast roundtables, demos of practices and performances that kicked off the 2021–2022 season of Hexagram's Rencontres interdisciplinaires, under the theme EMERGENCE/Y. In 2023, the Festival will take place in Linz (Austria), at the iconic Postcity center, where the exhibition will be presented among a program of international organizations and artists.
The projects presented were selected from a call for proposals launched within the Network and are examples of research-creation practices. The works address current environmental issues, and notions of place, territory and identity, studied and interpreted through research methodologies and creative processes of scientific, sociological and technical expertise. The creations presented were produced in the framework of research-creation training programs, including research residencies in scientific laboratories leading to the exploration of techniques, technologies, and imagery in the sciences, namely, earth and atmospheric sciences, biology, geology and geophysics.
In addition to showcasing Quebec universities' research-creation to the international contemporary digital art scene, this Network action has an important role to play in the training and professionalization of emerging digital artists. It is a unique opportunity for the public presentation of their work, as well as for outreach in the circuits of artistic and cultural organizations and institutions: in 2022, the festival registered over 70,000 visitors who took part in 425 events across 11 venues in the city of Linz. Emerging artists taking part in this event will work alongside established artists. They are guided in the preparation of the different stages required for the international presentation and circulation of their work by a team of experienced Hexagram members and staff responsible for the pre-production, production and documentation of the artistic installations and performances.
---
PROGRAM, VISITS, AND PERFORMANCES
7 sept. (5:00 – 5:30 pm) – Guided visit by Max Boutin
7 sept. (5:30 – 5:45 pm) – Partition itératives with position data of the most dangerous space debris, collected by Space Junkies. Guillaume Pascale, Marie-Pier Boucher, and Alice Jarry.
8 sept. (5:30 – 5:45 pm) – Partition itératives with the data of Transatlantic Visions. Guillaume Pascale and Juliette Lusven.
9 sept. (5:30 – 5:45 pm) – Partition itératives with the data of Symphony of the Stones. Guillaume Pascale, Brice Ammar-Khodja.
---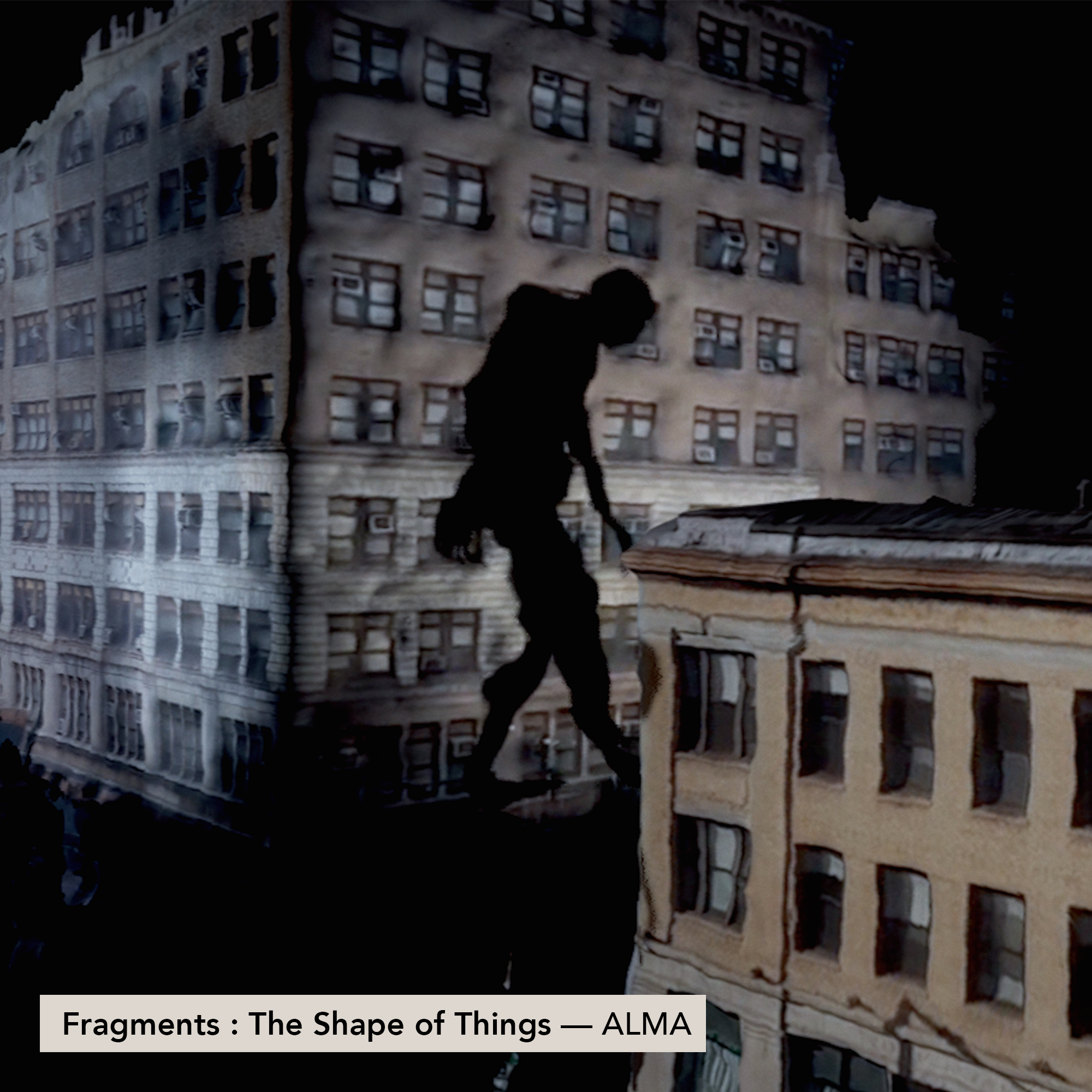 Fragments : The Shape of Things
ALMA / Marc-André Cossette (CA) – Alexandre Saunier (FR)
Fragments is an audiovisual performance that explores how automated data processing systems aestheticize human relations and global conflicts. Audiovisual fragments extracted from the news are transformed with electronic instruments, video game engines, photogrammetry, and sophisticated AI and A-Life techniques. News images are mystified through technological processes, recalling the digital mediatization that separates our bodies and the realities of others.
Fragments: The Shape of Things will be at the Deep Space 8k Thursday, September 7th at 8 pm.
Please note : Limited capacity – in addition to a valid ticket, you need a (free) ticket reservation for the respective event in advance. Reservations for Deep Space 8K events must be scanned on-site no later than 15min before the programme starts.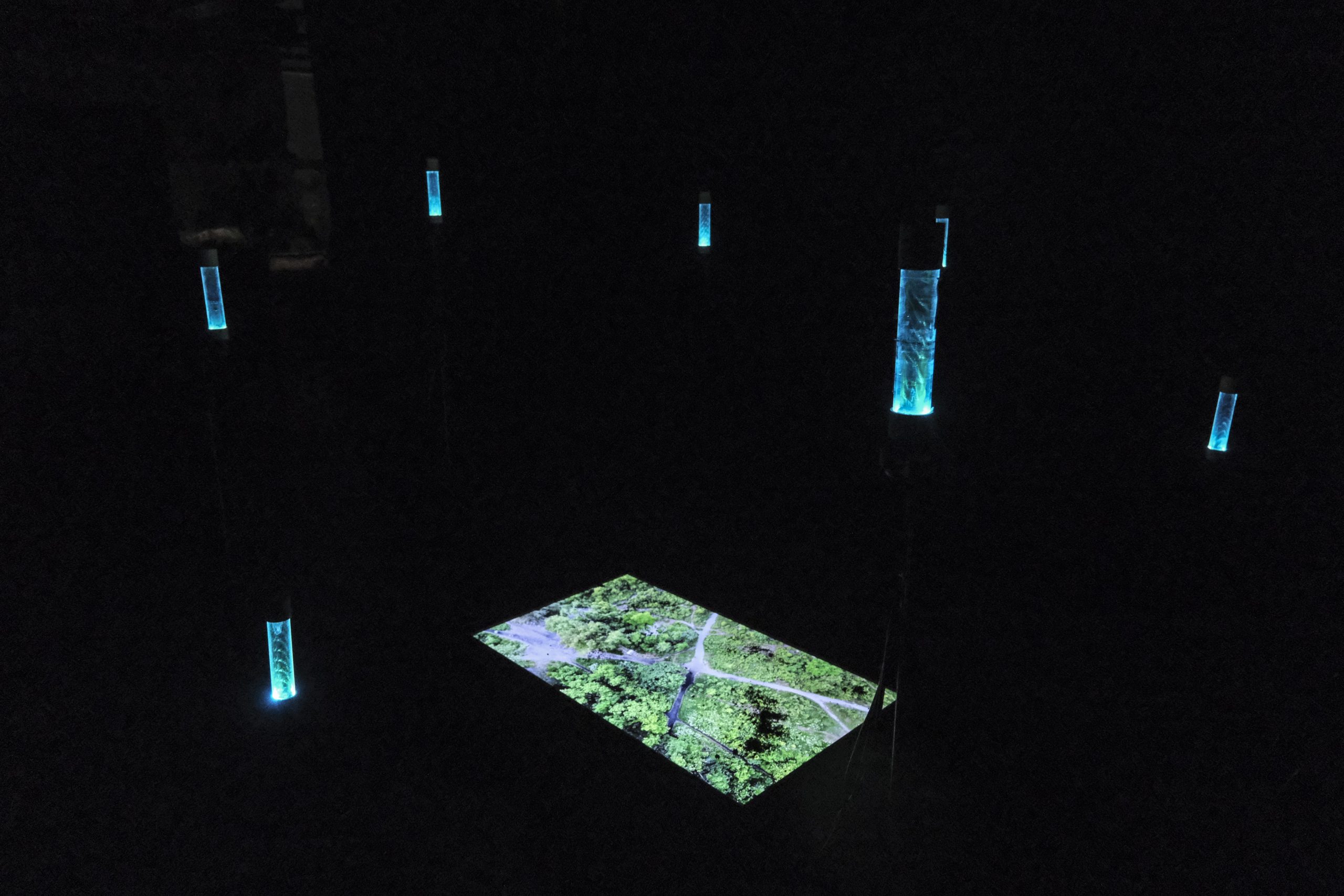 Symphony of the Stones (The Archive)
Symphony of the Stones is an installation that examines the correlation between the abnormally high presence of heavy metals and magnetic residues in contaminated soils. The project originated from a site-specific study and a series of interventions in a former marshaling yard in Montreal. The installation explores the interconnections between urban infrastructures, pollutants, soils, and living organisms by activating mineral contaminants and various extractive residues.
Software Development Support : Jean-Michaël Celerier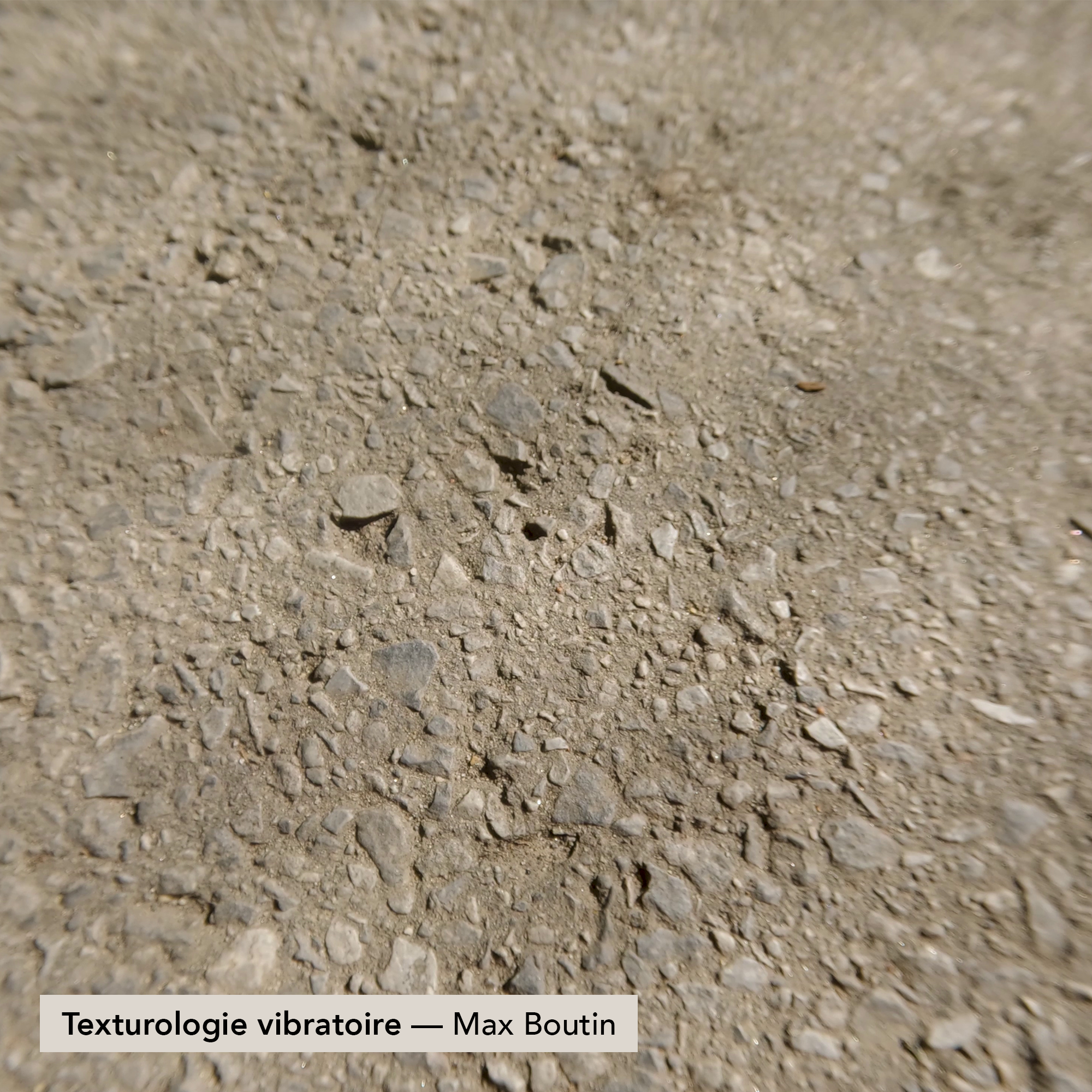 Texturologie vibratoire
A skateboarder is like the diamond of a record player, rolling on the textured ground of the city. He follows trajectories from which emanate rhythms and a unique musicality. The urban space is like an immense vinyl record, only asking to be skated, to make a sensitive experience of slide and friction, an experience of urban dérive.
Texturologie vibratoire is a haptic installation proposing to see, hear, and feel this materiality through the skateboarder's point of view and instrument.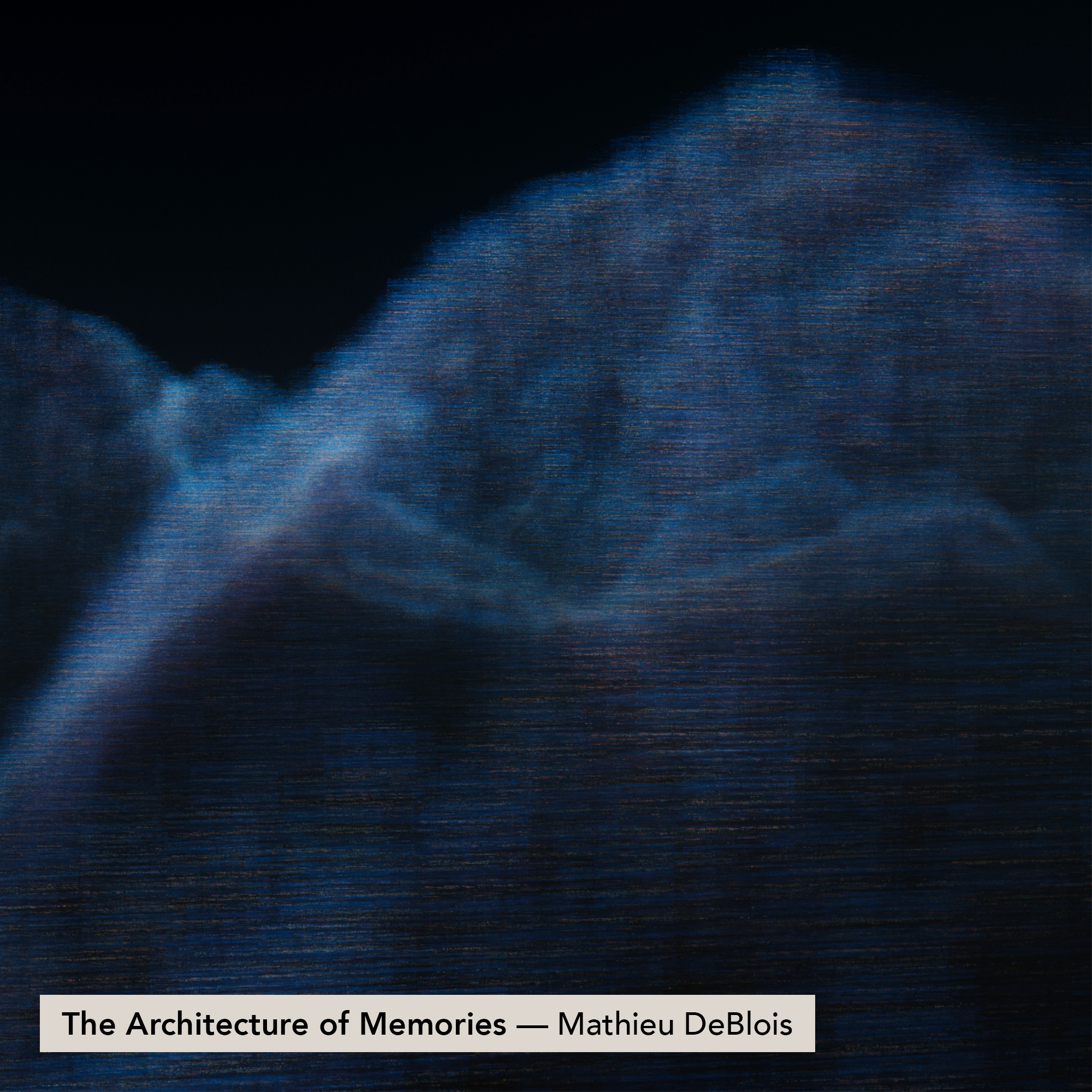 The Architecture of Memories
Mathieu DeBlois (CA) and Philippe Racz (CA)
Memories, encompassing terrains, spaces, people, and emotions, are reinterpreted through 3D scanning to create a Unity-based archive. Inspired by Barthes' "atopia" (1995) and Debord's "drift" (1956), this VR project employs point cloud images, ambisonic sounds, and melodies to craft a 360 immersive experience within this mnemonic landscape. Project developed in collaboration with composer Philippe Racz and programmer Romain Salha.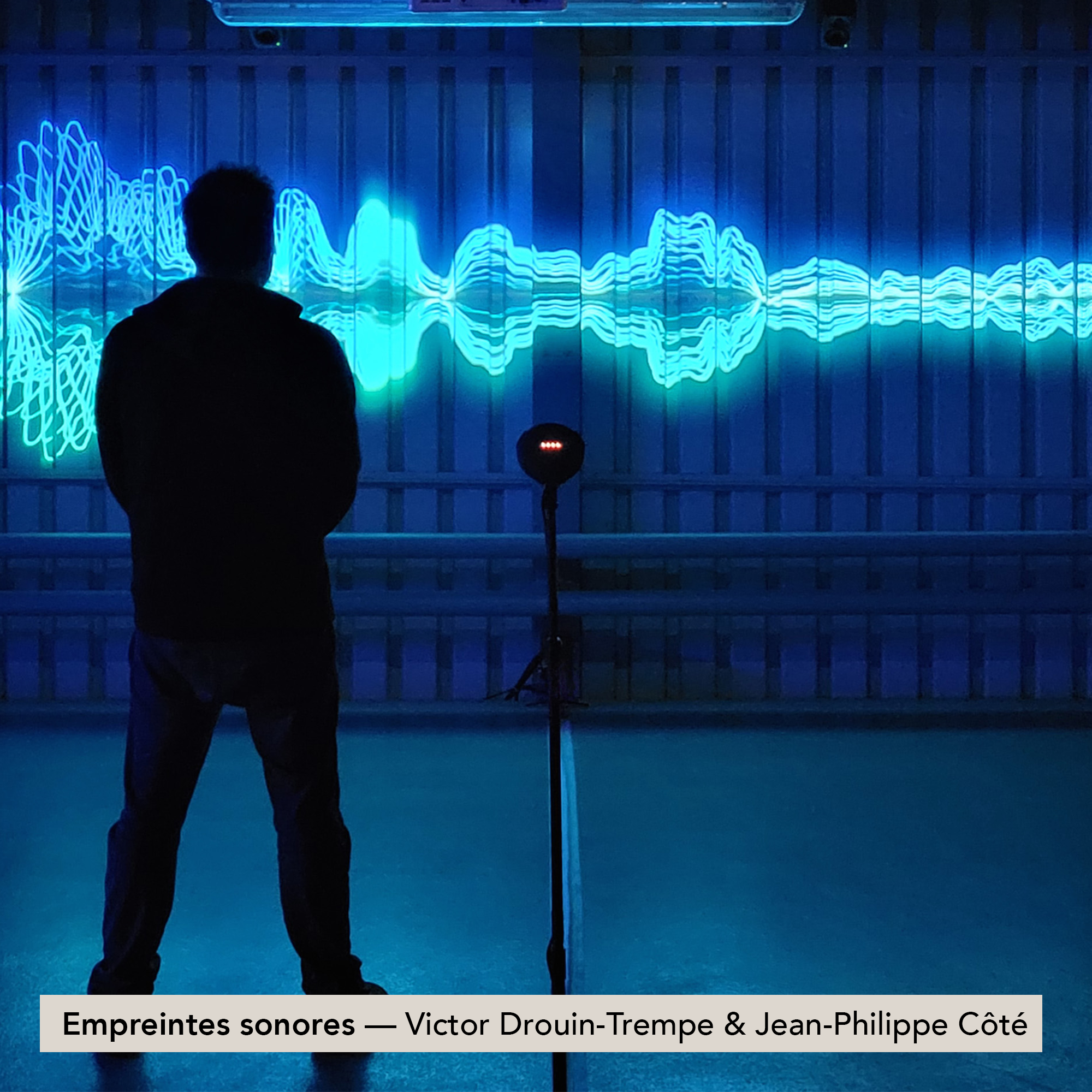 Empreintes sonores
Victor Drouin-Trempe (CA) – Jean-Philippe Côté (CA)
Empreintes sonores is an interactive installation that looks at the traces we leave in the digital space. The installation uses a hacked voice-activated assistant to record continuously. The captured sounds are triturated, remixed and played back in the environment. When vocalizations are detected, they materialize visually. It then becomes possible to navigate the frozen sound by moving in space. Thus, it is no longer the sound that travels to our ears but our ears that must travel through sound.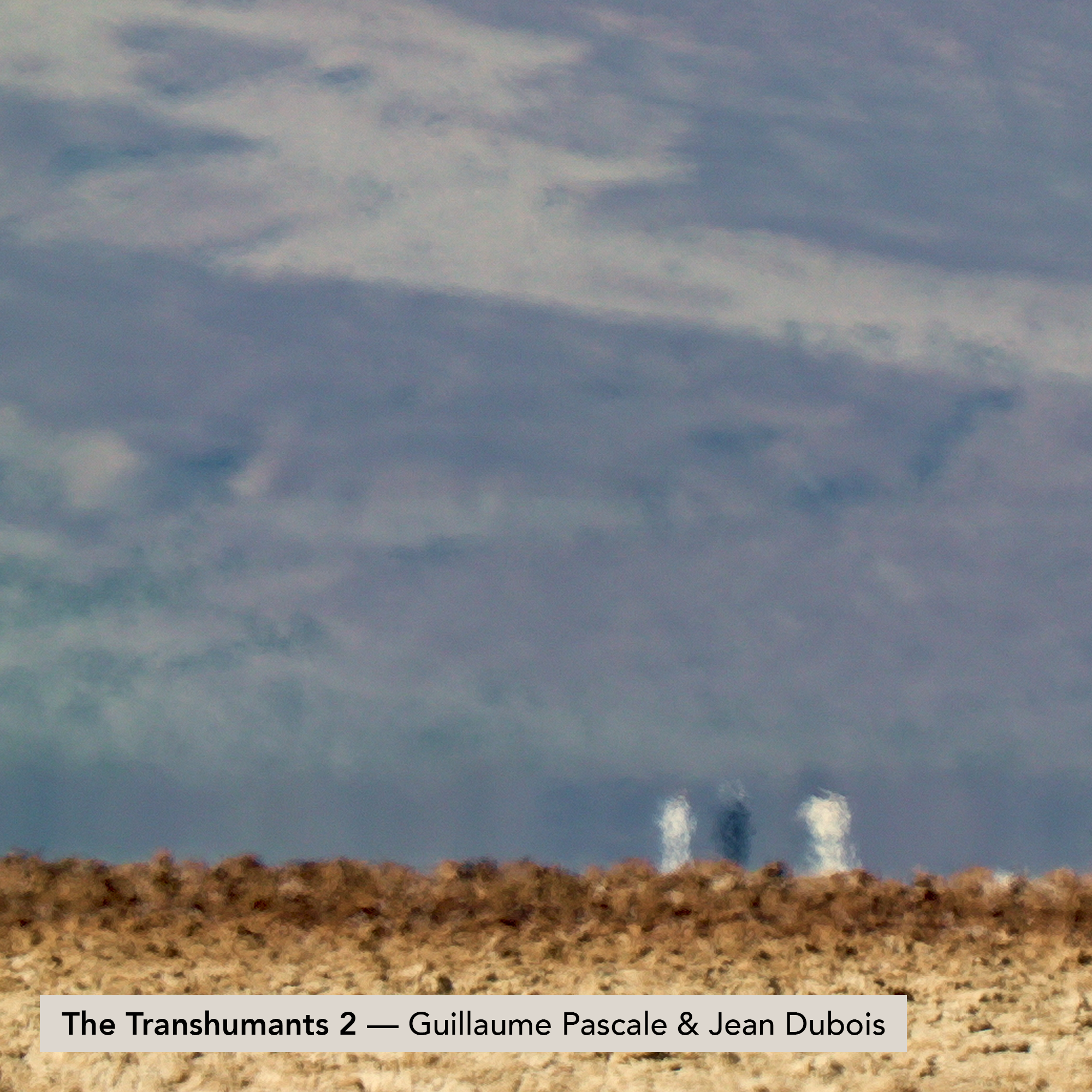 The Transhumants 2
Guillaume Pascale (FR) / Jean Dubois (CA)
Displayed on five modified miniature screens, this installation examines the enigmatic movements of a wandering community in a desert environment. Inspired by the prospective nature of Harun Farocki's operative images and the prescient dimension of Mary Shelley's novel The Last Man (1826), the scene suggests an oscillating impression between the compulsive surveillance of the territory and a melancholic view of a mineral landscape.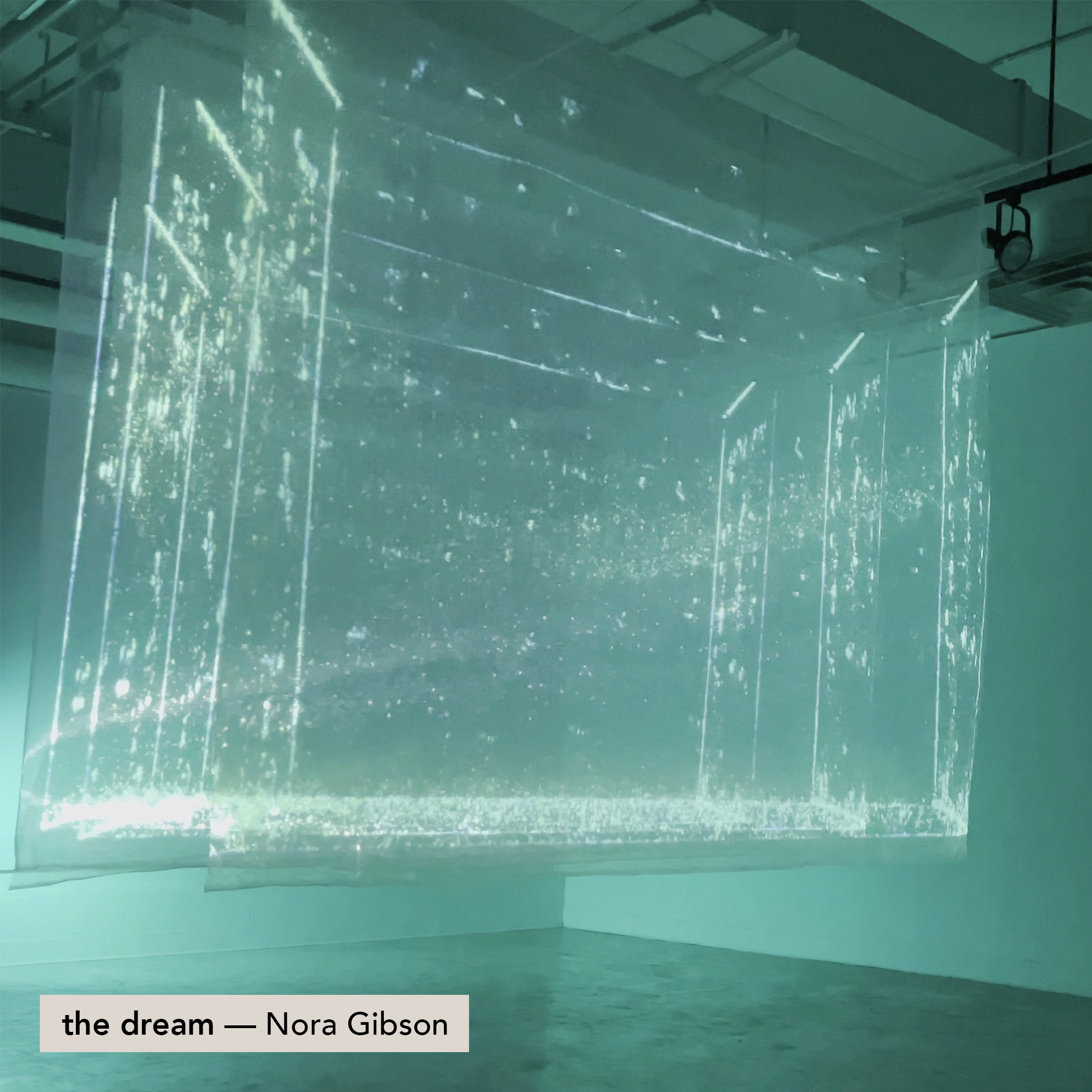 the dream
the dream transcends boundaries of body and mind, facilitating calm through a bio-reactive feedback system. In this installation, a participant's theta (brain) waves are captured through a sensor to animate a particle system in real time. The participant's body creates the environment for others. the dream is a single channel video installation for projected generative visuals, lighting, and sound score. It celebrates the state of the mind and body at rest.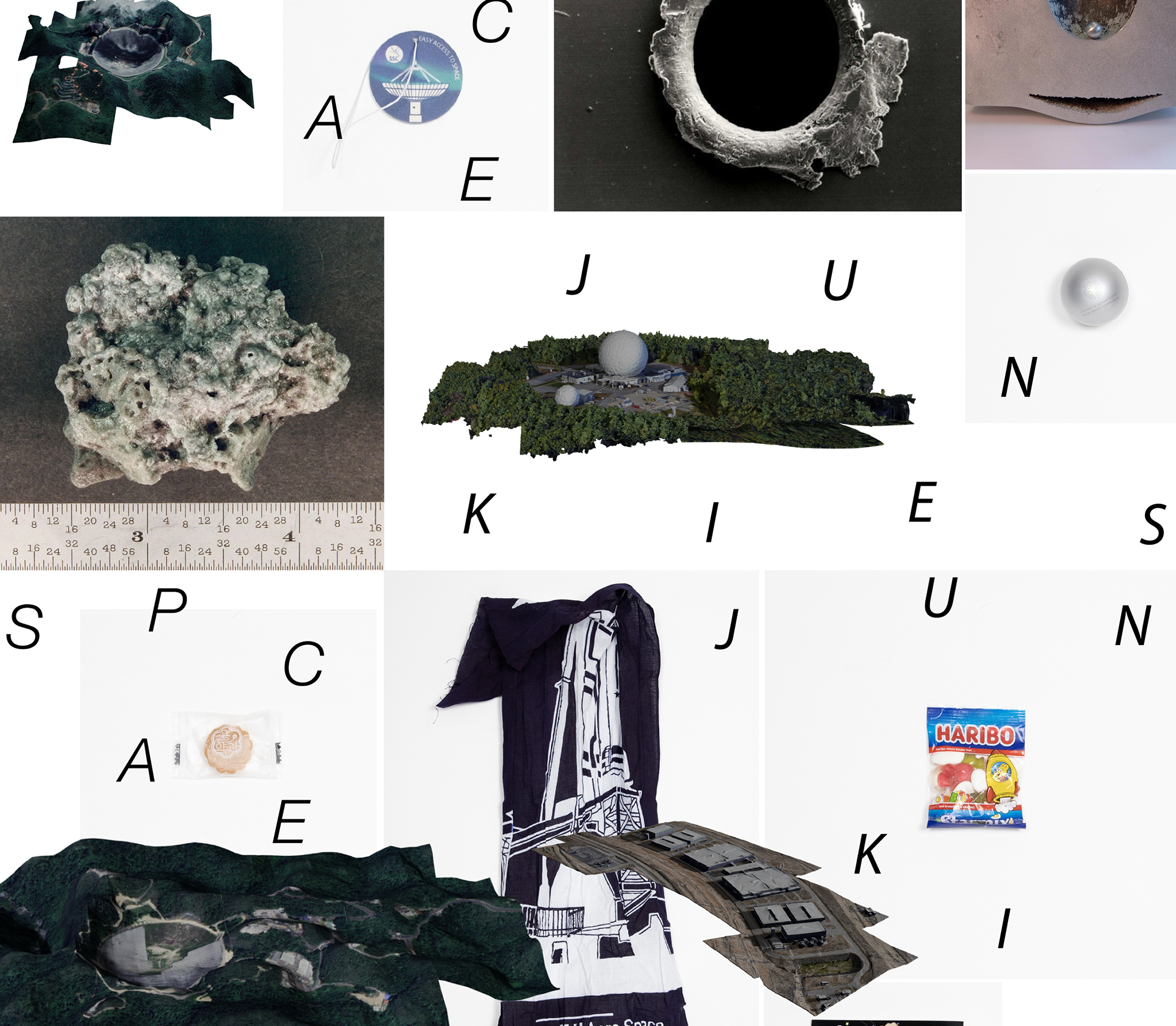 Space Junkies. Outer Space and the City : Cohabitation Strategies with Interplanetary Infrastructures
Marie-Pier Boucher (CA) / Alice Jarry (CA) / Guillaume Pascale (FR)
Around 230 036 500 debris orbit in space. Meanwhile, the 174 international exhibitors of the 2022 International Astronautical Congress (Paris) distributed thousands of stickers, tote bags, stress balls, car fresheners, space food, and key chains. Attending these paralleling hoarding processes, Space Junkies examines how space debris and space goodies can "forensically decode" (Schuppli, 2020) the capital and material accumulation of space exploration and its socio-environmental impacts.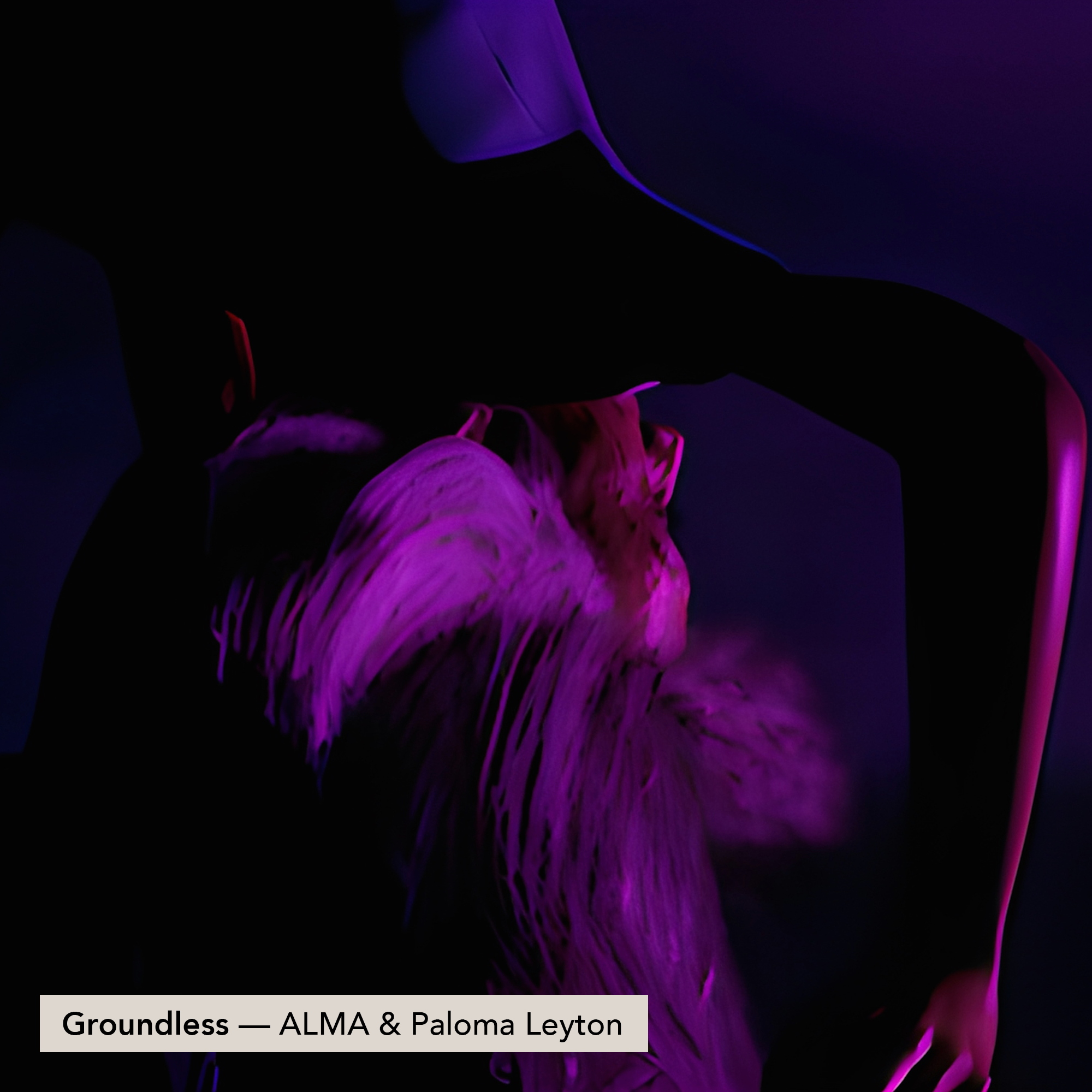 Groundless
ALMA & Paloma Leyton / Marc-André Cossette (CA) – Alexandre Saunier (FR) / Paloma Leyton (AR)
Groundless is a video creation that displays weightless bodies moving and morphing to the rhythm of an acoustic music soundtrack. The work brings together an aerial circus artist and two musicians that make use of motion capture, video game engines, and spiking neural networks (SNN) to explore the expressive qualities of virtual bodies in suspension. Over time, the interactions between virtual bodies, music, and SNN generate an emerging sense of temporal organizations.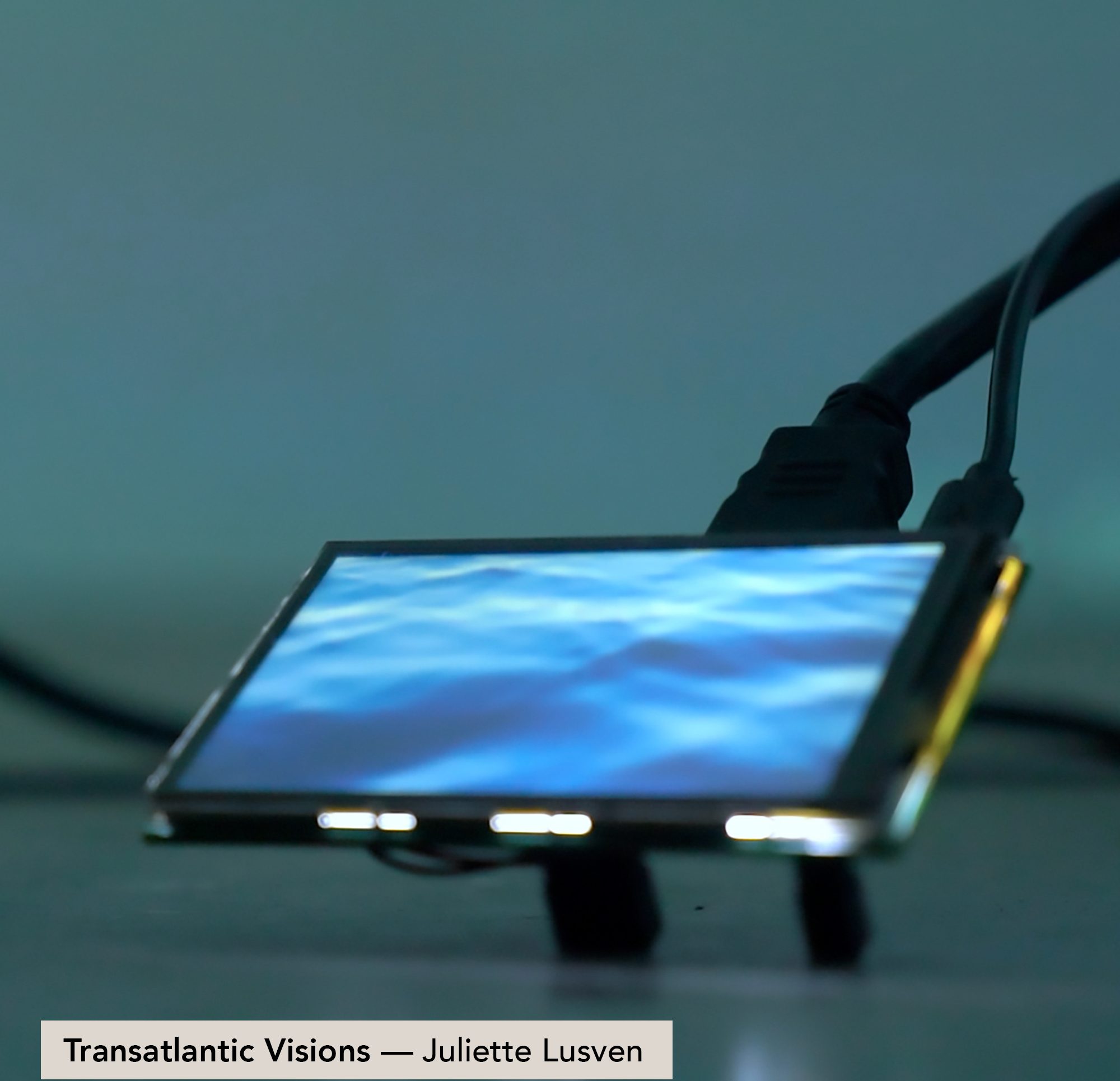 Transatlantic Visions
This installation explores our relationship to the world and technology through the undersea infrastructure of the Internet, evoked as the "backbone" of our interconnectivity (Starosielski).
Like an informational ecosystem, Transatlantic Visions examines this phenomenon of invisibility and circulation from the Atlantic Ocean and the web, articulating different visualizations, scale and materialities, between geographic, digital, geological and microscopic data from the seabed.
In collaboration with Max Boutin, Marc-André Cossette and Geotop. With the support of Telegeography.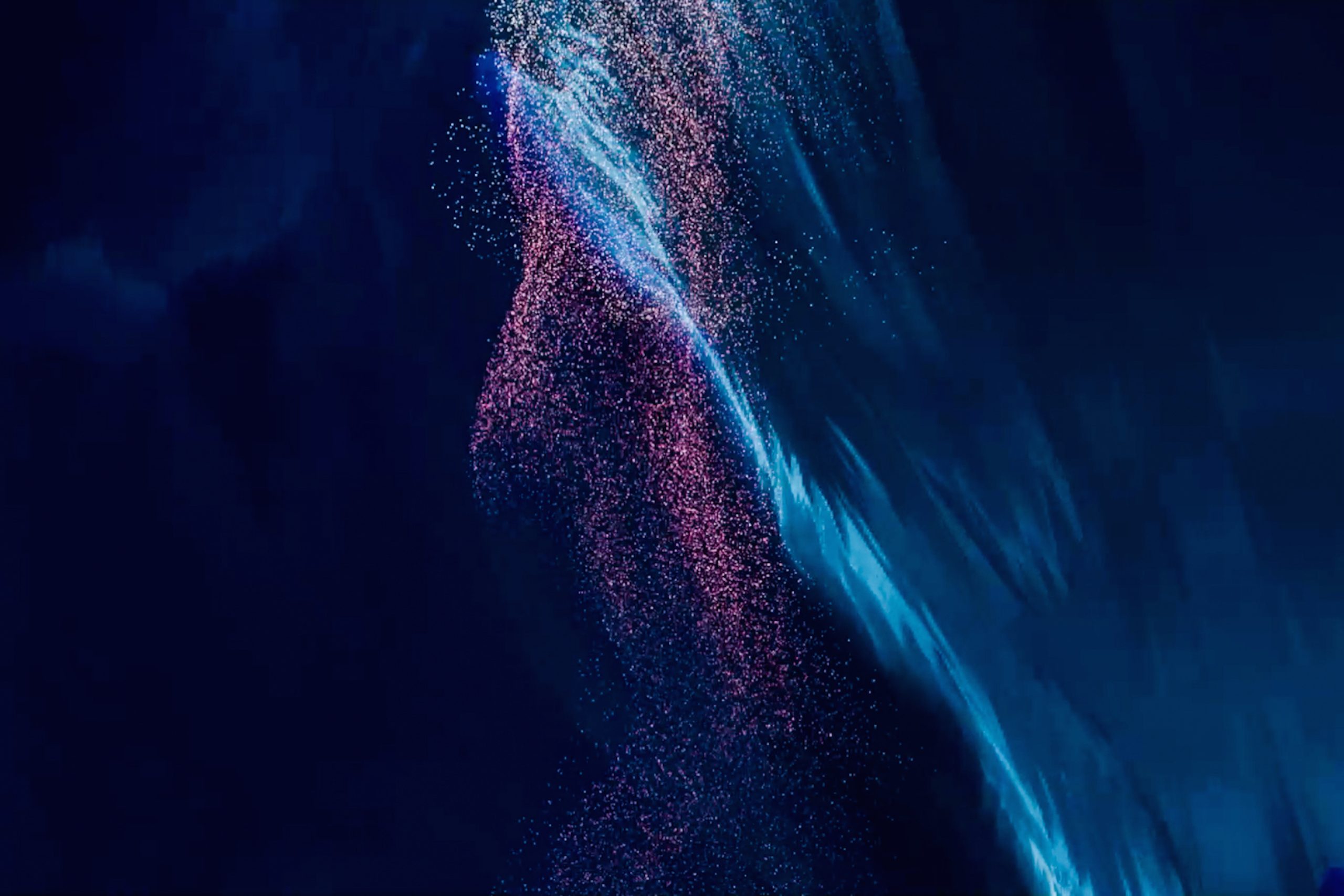 Virtual ISLANDs
Inspired by the artist's dual Caribbean and European heritage, Virtual ISLANDs explores the relationship between the experience of virtual immersion and the physicality of being submerged. This multimedia installation includes a 6 degrees of freedom (DOF) VR experience, inviting a reading of 'virtual reality' practice as aesthetic / artistic creation. It foregrounds submersion alongside immersion to highlight the relation between water and identity.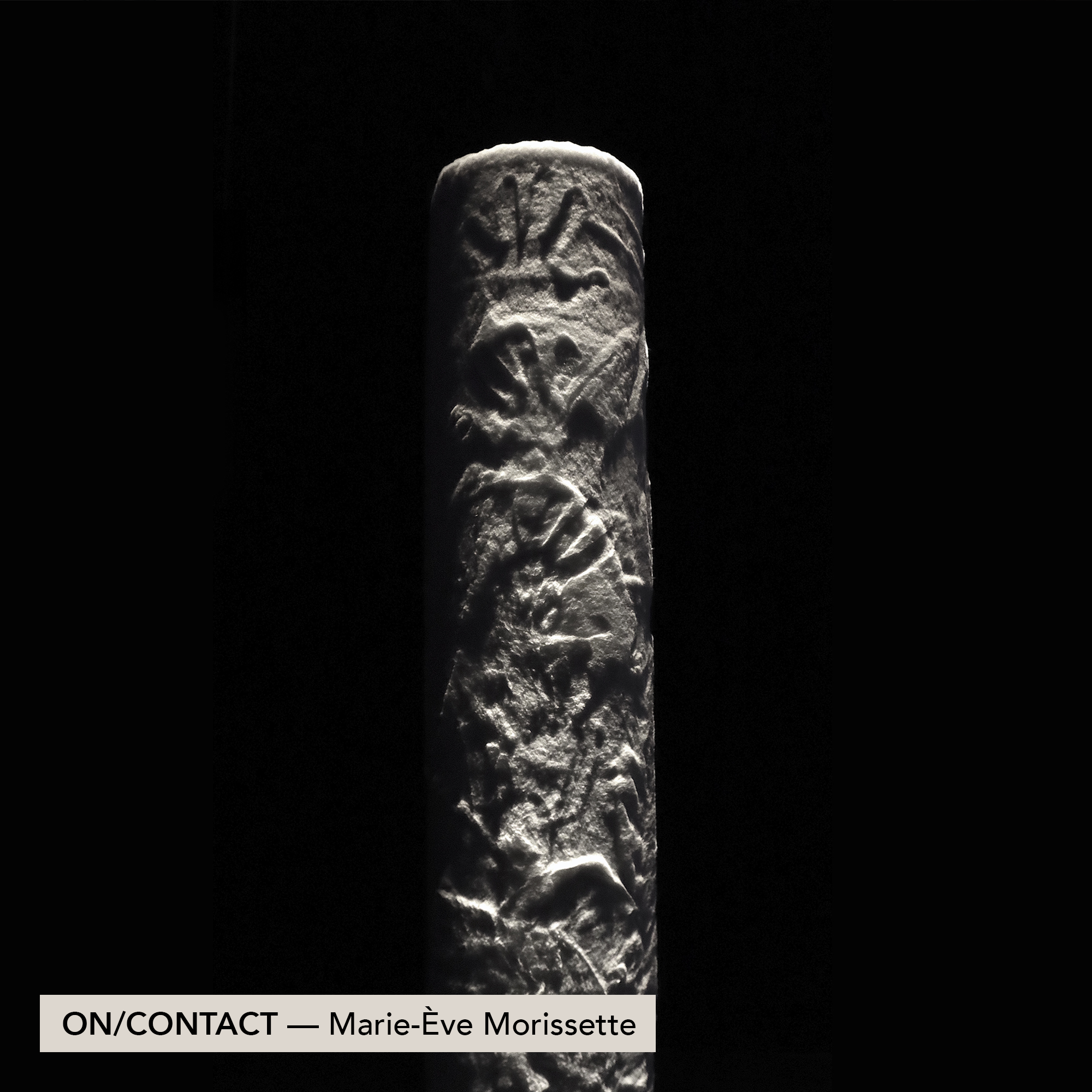 ON/CONTACT
ON/CONTACT is an interactive installation in the form of a haptic column that the interactor squeezes against their body. It is based on an interaction paradigm that puts the concept of encountering above that of controlling. The tactile exploration of the column invites self-expression while eliciting a sense of comfort. Its sonic and vibrotactile landscape becomes an object onto which the interactor can interpret and project their own subjectivity.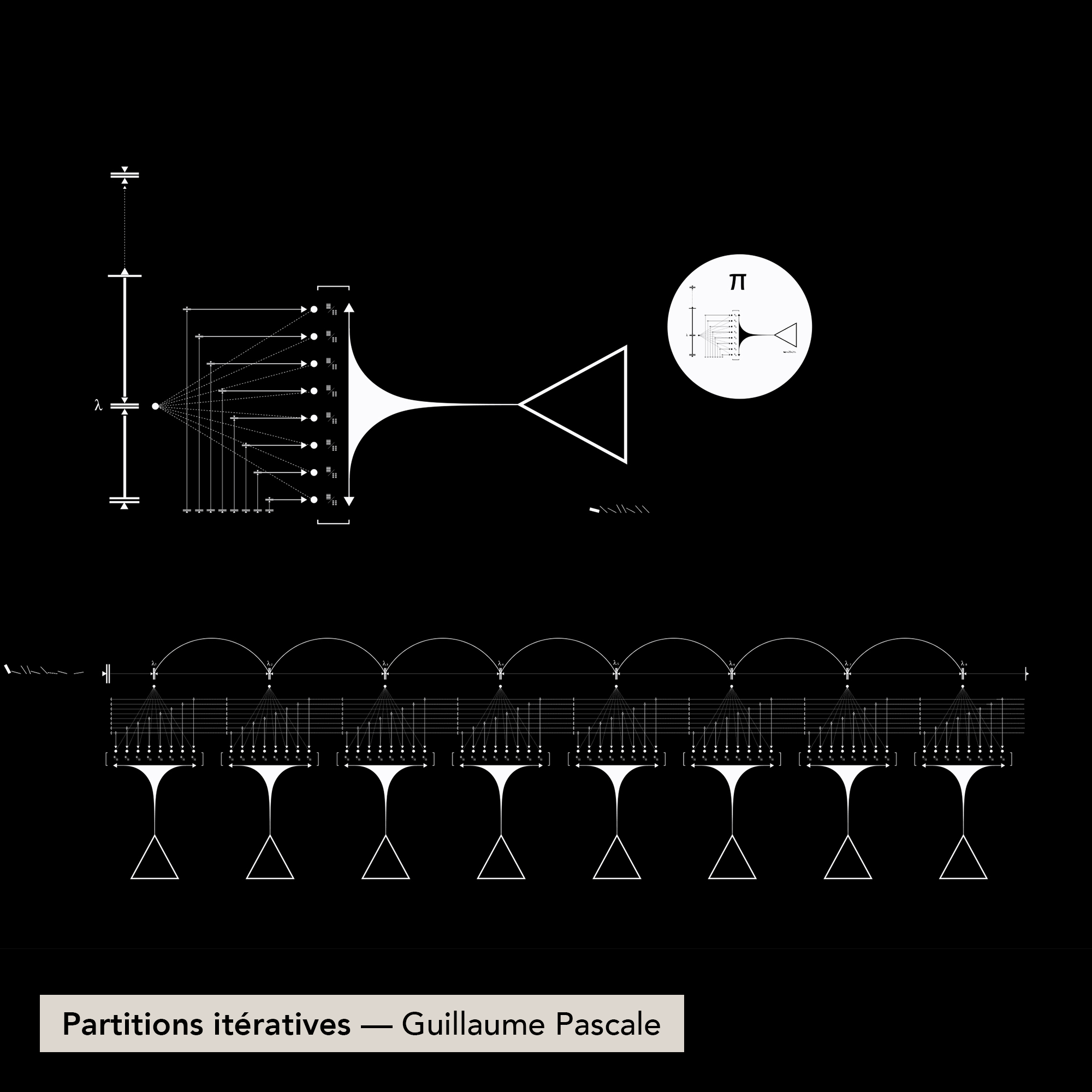 Partitions itératives
Partitions itératives is a series of performances consisting of composing music with data streams, generally from outer space objects. These performances offer a sensitive re-reading of scientific data, replaying at the speed of sound a set of data traveling astronomical distances.
As part of the exhibition, in addition to the original performance, Partitions itératives will be performed 3 other times, sourcing the data from other installations in the exhibition.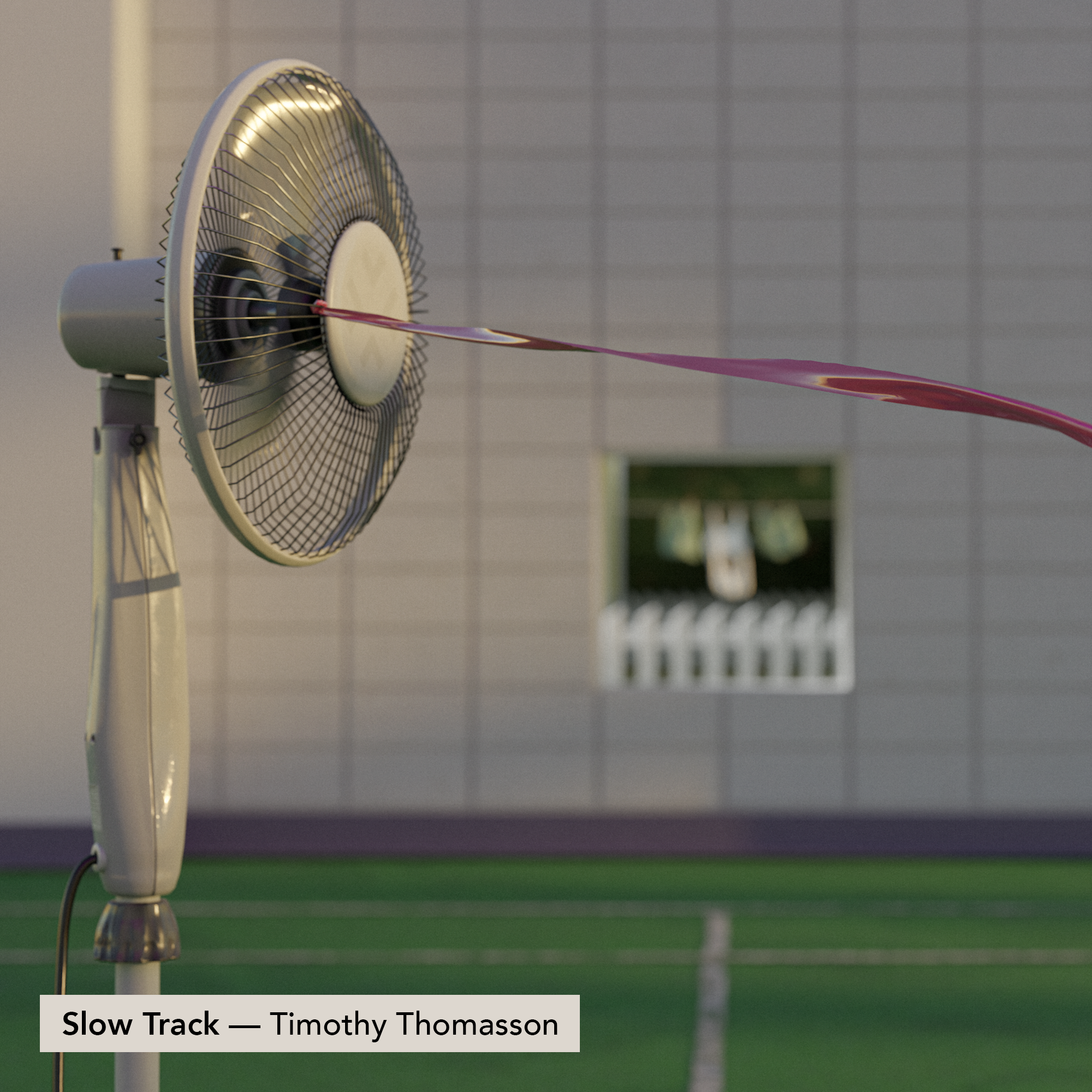 Slow Track
With the intention of questioning the structural and aesthetic nature of the virtual image, Slow Track forgoes the excess, speed, spectacle, surrealism, sci-fi, and fantasy commonly associated with computer-generated imagery. The work deploys a 'perceptually photorealistic', slow, gentle, and possibly mundane image which is wary of the software that produces it. Rather than a computer-generated image that seduces us with spectacle, this is one which asks for patience.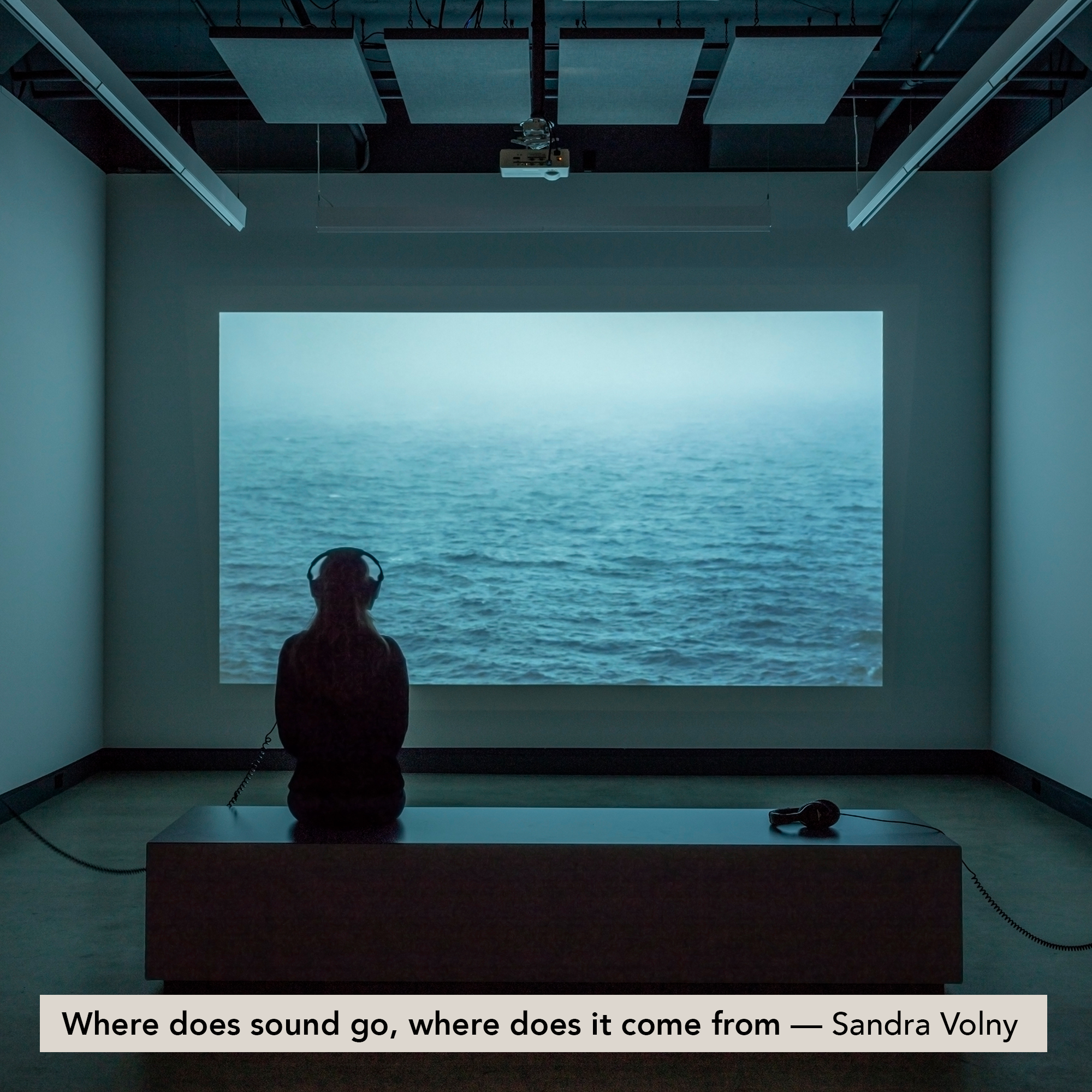 Where Does Sound Go, Where Does It Come From
While in Coliumo bay, Chile, investigating different modes of orientation by local fishermen, sound artist Sandra Volny discovered that they were able to navigate the treacherous, dark and foggy conditions of the Pacific coast by relying on sound. This 8-minutes auditory portrait flips back and forth between seeing/hearing and listening/visualizing, relying on the white noise of the ocean as an auditory space for narratives of individual and collective imagination to emerge.
Network student members Puneet Jain (student member, Concordia University) and Julie-Michèle Morin (student member, UQAM) will also be present in Linz, having been selected to take part in the FOUNDING LAB Summer School Program, co-organized by Ars Electronica and the Institute of Digital Sciences Austria, from August 23 to September 12. Finally, we'd also like to highlight the participation of Cristo Riffo (student member, Concordia University), whose work Sistema Cinco: Non-human determinations will be presented in the Festival's main exhibition.
---
Production Team :
Max Boutin – Project curation and production manager.
Jason Pomrenski – Hexagram Network Technical Director
Brice Ammar-Khodja – Project Technical Assistant
Marie-Ève Morissette – Project Technical Assistant
Manuelle Freire – Hexagram Network General Coordinator
Gaëlle Scali – Hexagram Network ​​Activity Production Coordinator
Paloma Leyton – Photo documentation
Anatole Michaud – Hexagram Network Communications Coordinator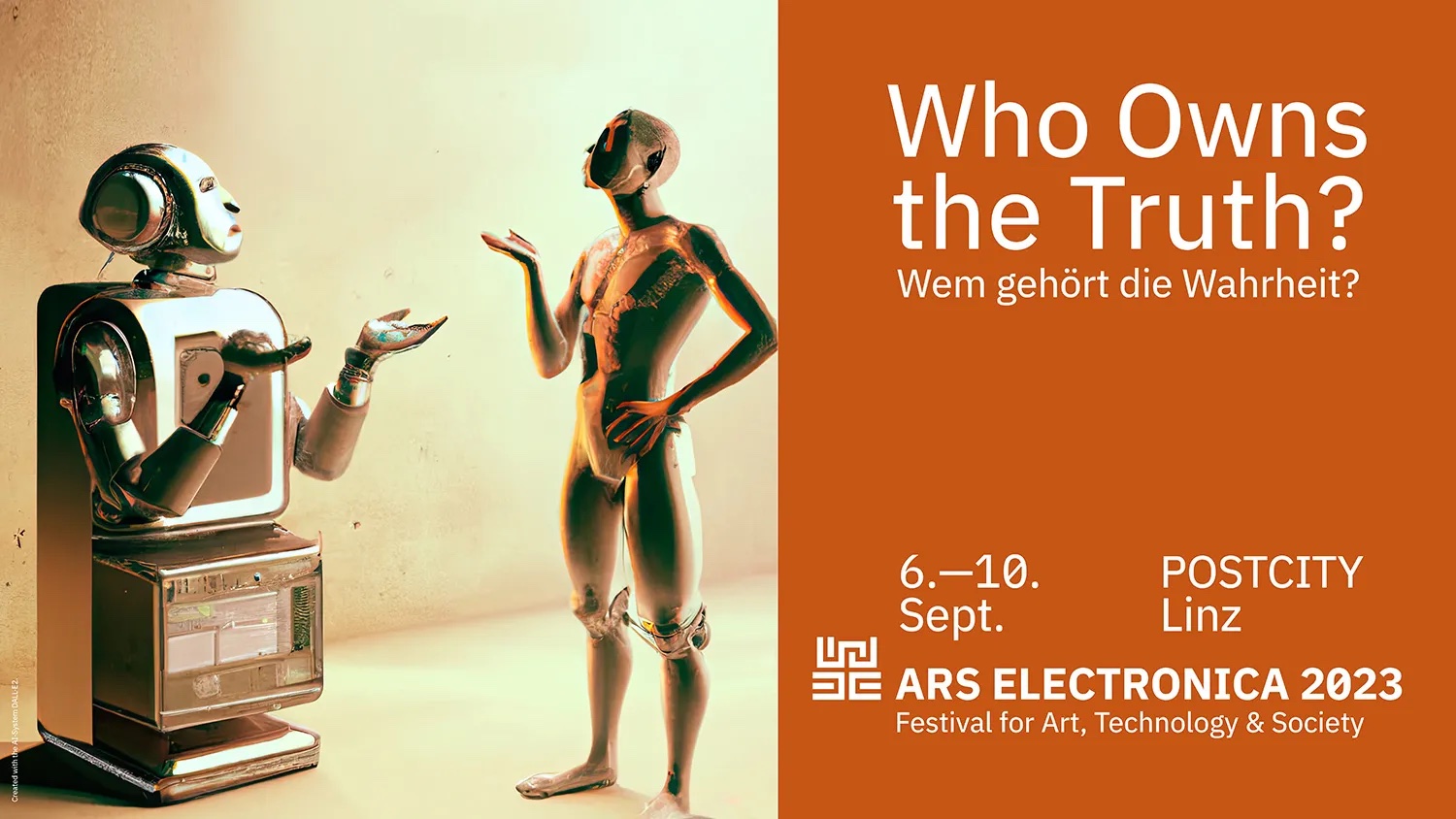 Cette publication est également disponible en : Français (French)